Glenn Warren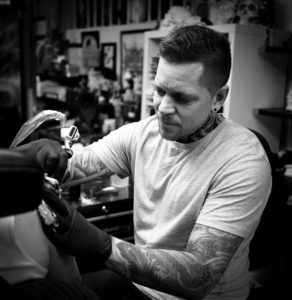 Tattooing since 2012
Glenn is now with us a full time artist and we are very fortunate to have him on the team!
Glenn is a professional Tattoo Artist based in Sydney whose style ranges from Japanese/Oriental to black & grey, geometric, dot work, floral designs and even some portraiture work. Being an aspiring artist from a very young age with the ability to draw, paint and airbrush, Glenn enjoys all aspects of artistry.
Glenn started his journey only 5 years ago studying the art of tattooing in Asia, since then he had spent the majority of his time working out one of the most established studios in Western Sydney 'Wicked Ink' and various custom studios in Sydney working alongside some of the big names in the industry.
Glenn is constantly travelling around the world seeking inspiration and feeding off others artists to better his skills for his client base. Experienced, Fun, hard working, dedicated, and talented.
Email us through the contact form  or ring the shop on 8399 1973 to book a free 30 minute consultation with Glenn at the shop at a time that suits you.
SaveSave
SaveSave
SaveSave
SaveSave
Artist Portfolio
Artist Portfolio