Work Opportunities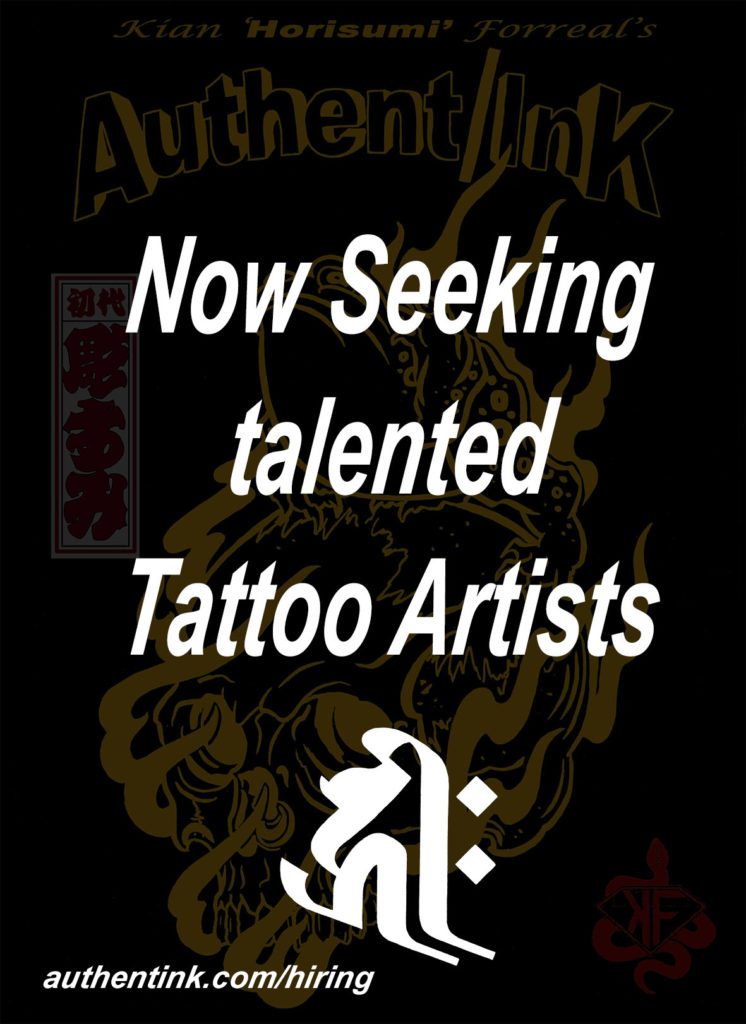 ---
Hey Welcome! 
We are a very busy tattoo studio with a great clientele and we are located in the heart of Sydney. It's a great working environment and we have a solid dedicated team. 
---
We are always seeking Guest Artists that want to come work at Authentink Studio and share their craft with us and we share ours with them. Before applying for a guest artist position please go through the website and familiarise yourself with our work and quality.
---
October 3rd 2017
Authent/Ink Tattoo Studio is looking to take on a guest artist or two over the next two months only, immediate start as we are flat out and all our current artists are pretty booked out… and we could use the help!
Our summer roster is action packed from mid December onwards as we have a full house of awesome talent for the summer months… but right now we need an all-rounder that loves doing walkins and has a high professional standard and works well in a group environment… contact me directly. thanks! Kian
---
Authentink Studio is seeking a permanent artists specialising particularly in colour neo-traditional, Black & Grey Realism, American traditional, Traditional Japanese, girly traditional, colour illustrative and anything else, get in touch and we'll have a chat! 
---
---
Read the reviews below from former artists and guest artists to get an idea of the relationships we foster with our artists and what they have to say about working at Authentink Studio
*
Authentink is an incredible studio. Comfortable, friendly and immaculately run. I came up for two weeks for my first guest spot with little work lined up, and ended up flat out busy every single day. Kian and his crew definitely run a tight ship, truely the most organised and well structured tattoo shop i've worked in, and a lot of fun. I left feeling fulfilled and inspired, and look forward to returning!
-Jarrad Serafino – Melbourne, Australia
---
To work at Authentink Studio was a honour  and pleasure.
A truly well organize and friendly environment, where the respect for both artists and customers are nothing less than priority. Kian and his whole crew approach the craft with enourmous respect.
After working in many shops around  the globe, i have to say that theres not many parlours like this,  therefore , whenever im in Sydney, Authenink will always be my home, my harbour.
-Joao Bosco, LA, USA
---
I've worked in many shops, but Authentink is definitely on the top of the list. Great crew, great creative vibes, and Kian himself knows what a good Japanese tattoo should look like. I was blown away by the amount of bodysuits that comes through the door!
Another aspect I love is the fact that it's semi-private. As you enter the shop you forget you're in bustling Sydney: great artwork on the walls, a good number of serious artists working, and an overall hard-working but at the same time relaxed vibe.
But the privacy of the shop doesn't keep people from getting tattooed. I've never had a day with nothing to do at Authentink, they have a solid dedicated clientele but there's also plenty of room for walk-ins.
Authentink is a solid studio with a wonderful crew!
Thanks Kian and crew for the lovely memories!
– Vincent Penning  Netherlands
---
Authentink tattoo studio Is one of the best studios I have had the pleasure of working at. Kian's organisation of shop and staff makes work easy in a very busy shop . The clients are great I believe this is due to the semi private nature of Authentink, only serious clients make the journey, making them very easy to work with and open to your ideas as a artist allowing you to be able to make quality work.
Authentink was and is a great experience , I have learned and grown there and made awesome friends I hope to get back there soon.
-Ian Forlife Tattoos – Germany
---
"Arriving at Authentink at the early stage of my career was a chance to focus and progress on a wide range of style and technic to really find my way inside the tattoo scene. It was great for me to be surrounded with talent in a very busy environment with some of the kindest and easiest customer ever"
– Jess Martucci, France
---
"Guesting at Authentink for a second time has been good! I've had the pleasure of working alongside a fantastic team of artist from all corners of the world, from whom I've gained friendship and knowledge. The lovely shop management keep things running smooth at the busiest of times. Having stayed a bit longer this time I've had the chance to work on larger scale projects. I love my loyal and trusting customers here and look forward to coming back!
– Inma Alted, London UK
---
And this is what our clients have to say about Authentink:
https://plus.google.com/+AuthentinkSYD/about
https://www.facebook.com/authentink/reviews
---
Shop is flat out, if you have clientele then its an easy start  and if you don't then we'll make sure we get your name out there and get you busy fast! You will walk straight into having clients and bookings from day one as we are known Australia wide for not only our custom Japanese tattooing but also large scale tattoo work of every style and we are always actively advertising and all of our artists are very busy and booked solid for weeks and months in advance.
Please, take the time to read this entire page before contacting me, do not show up at the shop without an appointment to see me, and when you do come please make sure you have a printed portfolio of your best work – a tablet, phone or instagram feed are not a sufficient way to showcase your work to me. Many thanks! 
The crew you would be joining operate at a high level and we all share and learn from each other as well as hang out and party together from time to time, you must fit in and be as committed to tattooing as we are, you will learn a lot and grow as an artist as we all do but you must also have something to contribute to the team!  The tattoo artists at Authentink are expected to present well, dress smart casual and do their best to put forth a positive images both in person and online.
Doesn't matter how long you've been tattooing as long as you're a professional and your work speaks for itself and you have a good attitude, great client service and you can draw and want to get better. You must have some years of shop experience obviously and not be an amateur, this is not a job offer for apprentices or hobbyists or home scratchers.
Having a printed portfolio of your work would be very helpful and if you could get one printed out before coming to see me that would be great!  You can send me a link to you online portfolio in your introduction email of course!
---
If you're from overseas or not local to the shop you may send me a link to an online gallery and most definitely I will need a biography and history of where you worked as well as references from current or prior employers when possible. 
International Worker Visa:
If you are from Overseas; Canada, USA, UK, Europe, you are eligible for a 1 year working holiday visa if you are under 30 years of age. This can also be extended to 2 years.  With this visa you may enter Australia with your tattoo equipment and get a tattoo license to work legally with us in the shop. Great opportunity for the right person. Check out the visa requirements here 
http://www.immi.gov.au/Visas/Pages/417.aspx
Any questions please email on the address below and I will help you out ok!
If you are based out of a state other than NSW and are serious about relocating to work with us and you're the right artist for the shop  we will certainly help you make the move and help with getting set up here.
---
You must be eligible or already licensed to tattoo in New South Wales.  
This position is for full-time work only (5 days a week) and on a permanent basis if not a guest… if you have no local clients do not worry… we are busy and will get you busy fast!
Authentink Studio is a very busy shop with 100% custom work for each client, we also get a lot of walk-ins on a daily basis as well, you must be willing to fill in your gaps with small tattoos while building your custom clientele. Authentink is an off street shop on the 3rd floor in a great building in the heart of Sydney so you must be somewhat internet savvy if possible and also maintain your social media presence, we can certainly help you with that! We do a lot to keep our artists busy and they do their part to maintain it. 
Working at Authentink is like being in a 5 star hotel, we have shop assistants that build your tattoo station prior to tattooing and break it down afterwards, your tubes are cleaned by our staff, your lunch and coffee's are brought you and we do all the bookings for your consults and appointments.  Paper towels are separated and placed on your desk, all disposables are supplied and each artist gets their own dedicated desk. Its a pretty cruisie place to work, the assistants do all the deposits and bookings and look after all the clients. All you need to do is work hard and make great tattoos and provide a great level of service to our clients.
---
 Please read thru the entire website to get a feel for what we are about as a shop and who I am and what I have done as well as familiarise yourself with portfolios of our current artist line up and the quality of their work. This is the level you must be close to and aspire to be at.
 If this sounds like you and something you'd like to be a part of then please contact me by email first to introduce yourself. 
 Cheers 
 
 Kian 'Horisumi' Forreal

SaveSave