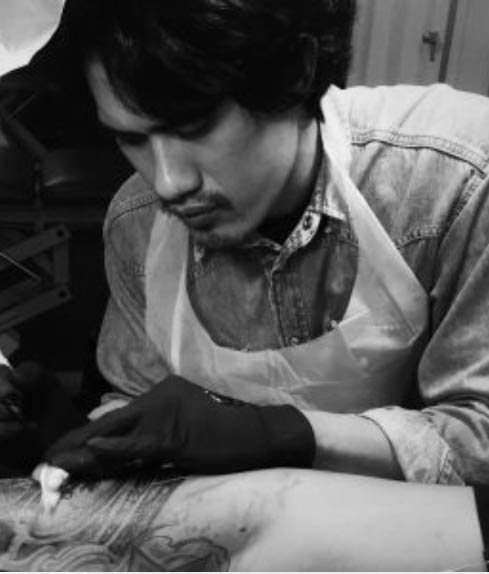 Full-Time Artist
Chang Tattoo
Experience: 2010
Our new black & grey realism artist Chang will be starting with us June 18, 2019, we are very excited to have this talented tattoo artist join our team and continue in our path of making great tattoos!  Ring or email the studio for consults as he will be filling up fast!
Biography
Chang graduated  M.F.A.  The Faculty of Painting, Sculpture and graphic Arts, Silpakorn University,Bangkok Thailand. He had exhibition and Honours & Awards during his studies and after graduation was awarded  in the 75th International  Print Exhibition Tokyo 2007 in Japan
Chang spent a lot of time to viewing  Japanese art in museums and learning about  Japanese printmaking. After that he went to Australia and became interested in tattooing after immersing himself in tattoo culture. After  years of study and training to become a professional tattooist he is now working at Authentink Studio. For Chang tattooing is art and craftsmanship combined. His style is black and grey realism, sometimes with a touch of color. He gets his influences from realism paintings, black & white photography, fine arts of the past eras, neo-romanticism neo-classicism and many greats artist from the past to present.
To book a free 30 minute consultation with Chang just fill out the contact form requesting him or ring us on 8399 1973!