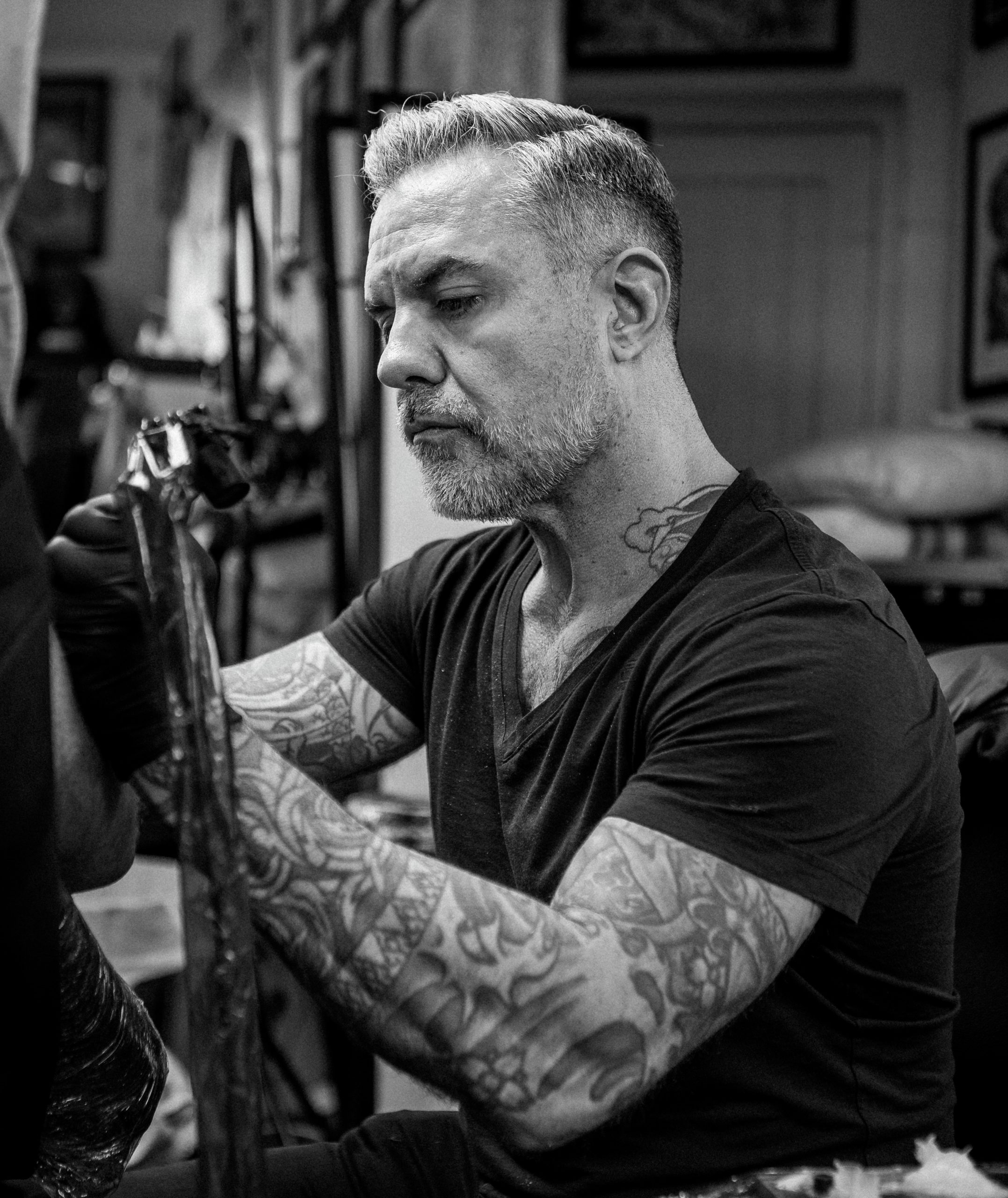 Full Time Artist
Ian – Horivida
Experience: Since 1995
Ian (Horivida) comes to us from Europe where he has been tattooing in all styles for the past 28 years but  has been mainly focusing on studying black & grey tattooing from sleeves and backs to one-shot pieces. He also loves doing neo-traditional tattoos of girl heads, traditional Japanese, animals and related imagery. Horivida also has a natural gift for realism and is passionate about creating this style of tattoo in both small and large format.
He is a natural artist that will most likely draw your tattoo right in front of you during the consult, he doesn't mess around with long wait times. Once you book in he'll have your artwork ready to go very quickly and you'll get the awesome tattoo you've been looking for!
Lately he has worked in Germany, Netherlands, Argentina, Spain, Denmark and the UK! The man gets around and has worked with some of the best in the business. He is a rather charming person and clients find themselves coming back again and again to get more great tattoos from him and listen to his jokes and humour!
He has also worked in Australia before many time with Authentink, in Melbourne and on the Gold Coast  He was a well known fixture in Sydney a few years ago and had  large following before setting off to travel the world again.
If you would like to book in for a free 30 minute consult with Horivida, please use the booking form here or call the shop on +61 2 8399 1973
Horivida llega a nosotros desde Europa, donde ha estado tatuando en todos los estilos durante los últimos 25 años, pero se ha centrado principalmente en el estudio del tatuaje de estilo japonés,
desde mangas hasta espaldas y piezas únicas. También destaca y le encanta hacer tatuajes neotradicionales de cabezas de chicas, animales e imágenes relacionadas. Horivida es un artista natural
que probablemente dibujará tu tatuaje justo delante de ti durante la consulta, no se anda con rodeos con los largos tiempos de espera. Una vez que usted reserva en él tendrá su obra de arte listo
¡para ir muy rápidamente y usted conseguirá el tatuaje impresionante que usted ha estado buscando!
Últimamente ha trabajado en Alemania, Holanda, Argentina, España, Dinamarca y el Reino Unido. El hombre se mueve y ha trabajado con algunos de los mejores en el negocio.
Es una persona encantadora y los clientes vuelven una y otra vez para hacerse más tatuajes y escuchar sus bromas y su humor. También ha
ha trabajado en Australia muchas veces con Authentink, en Melbourne y en la Costa de Oro.
antes de volver a viajar por el mundo. Nos visita como invitado este verano y actualmente está aceptando consultas, no dudes en llamar al estudio o utilizar el formulario de reserva y
reservar su consulta gratuita con él, ya que las plazas son limitadas. No te pierdas esta gran oportunidad.