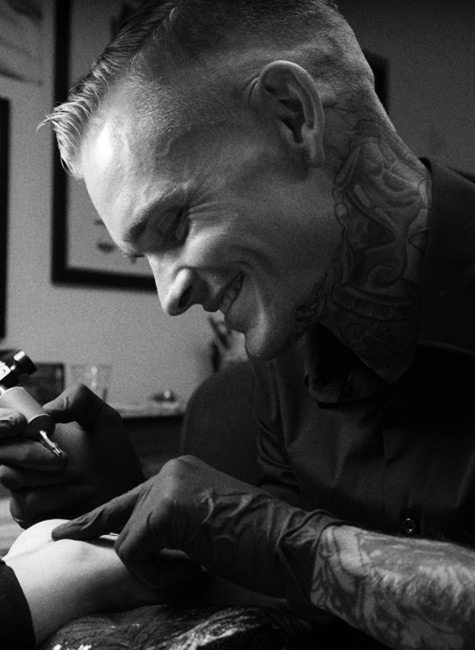 Guest Artist
Jonas
Experience: Since 2011
Jonas in his own words..
I was born and raised in Randers, Denmark. As a kind of troubled kid I had a hard time finding my place and my passion until I started getting tattooed myself at age 18. I instantly fell in love with tattoos even though they didn't look so great back then and when I started drawing and later on tattooing, I knew I had found what I wanted to do with my life.
I started my apprenticeship in a well-known shop in Aalborg in 2012 but quickly learned that if I wanted to get better I had to teach myself by trying to figure out the technicality of other great artists' work! I was always fascinated by those who could make tattoos come to live on your skin, so ever since I started doing black and grey realism I knew that was the style I wanted to master to perfection. I'm very technical and perfectionistic and I also have a great sense of detail.
I use realistic reference photo's a lot when doing a tattoo and use technology for combining several different pictures into a custom-made design! I like doing bigger pieces that I can really put some work into and I especially love doing black and greys with a big contrast difference to really create a realistic look realistic and to make the right elements in a tattoo stand out! The most important thing to me when I'm doing a tattoo is the quality of the finished tattoo! I'm very patient with my work and with my customers and the tattoo is done when it's as close to perfect as it can get. It's very important to me as well that my customers do their homework and take great care of their tattoos to get the best possible result.
Right now I'm traveling around the world to get inspired even more from new surroundings and new artists and to experience the world in a way you can't otherwise.
Jonas enjoys any black & grey realism, animal and people portraits, religious iconography, or pretty much anything you can come up with that he draw and tattoo in his unique style!