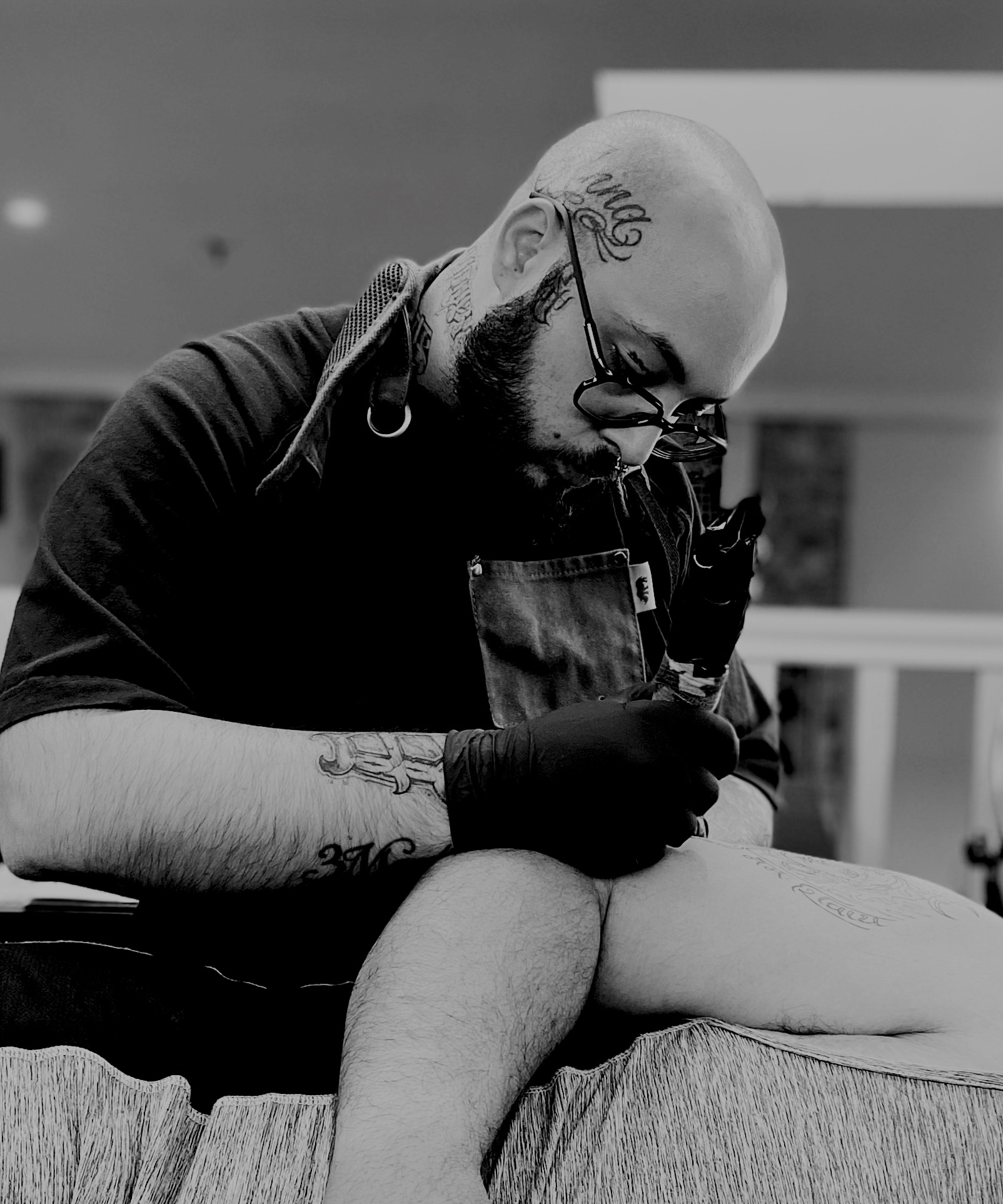 Full Time Artist
Mirko – 'Broh Tattoo'
Experience: 2014
Mirko is an Italian tattoo artist born in Milan in 1994, graduated in graphic design at the Kandinsky Art Institute in 2013. 
He approached the world of tattoos at a very young age thanks to the passion handed down by his mother for the world of art and tattoo, starting to collect tattoo magazines in the early 2000s. Realistic drawing, art history, painting and architecture are at the center of the artist's daily inspiration. Thanks to his technique and past experience he is versatile to any type of style but prefers realistic black and gray works. The representation of bright subjects with a dark background is hisspecialty, with a three-dimensional effect making it seem that they literally come out of the skin. 
His favourite subjects to tattoo are portraits/faces, sculptures, angels and demons.
In 2017 he opened the Broh tattoo collective in Milan, collaborating with some of the best artists and legends in the world of tattooing in Milan, where thanks to them he learned the art of Script/Lettering. Clients looking to work on projects that represent a moment, memory, or face can rely on the precise hands of Mirko aka "Broh Tattoo"
To book a free 30 minute consultation with Mirko just fill out the contact form requesting him or ring us on 8399 1973!
*  *  *
"Mirko è un tattoo artist italiano nato a Milano nel 1994, diplomato in graphic design all'Instituto d'arte kandinsky nel 2013. Si avvicina da giovanissimo al mondo dei tattoos 
grazie alla passione tramandata da sua madre per il mondo dell'arte e del tatuaggio, iniziando a collezionare riviste di tatuaggi a inizi anni 2000. Disegno realistico, storia dell'arte, 
pittura e architettura sono al centro dell'ispirazione quotidiana del artista. Grazie alla sua tecnica ed esperienza è versatile ad ogni tipologia di stile ma predilige i lavori realistici black 
and grey. La rappresentazione di soggetti luminosi con uno sfondo scuro è la sua particolarità, rendendo unici i lavori che nascono dalle sue mani e facendo sembrare che escano 
letteralmente dalla pelle. I suoi soggetti preferiti? I volti, le sculture, gli angeli e i demoni. Nel 2017 apre il collettivo Broh tattoo a Milano, collaborando con  alcuni dei migliori artisti 
e leggende del mondo del writing di Milano, dove grazie a loro apprende l'arte del Lettering. Chi vuole rappresentare al meglio un momento, ricordo, volto deve assolutamente fare 
affidamento alle mani precise di Mirko in arte "Broh Tattoo".