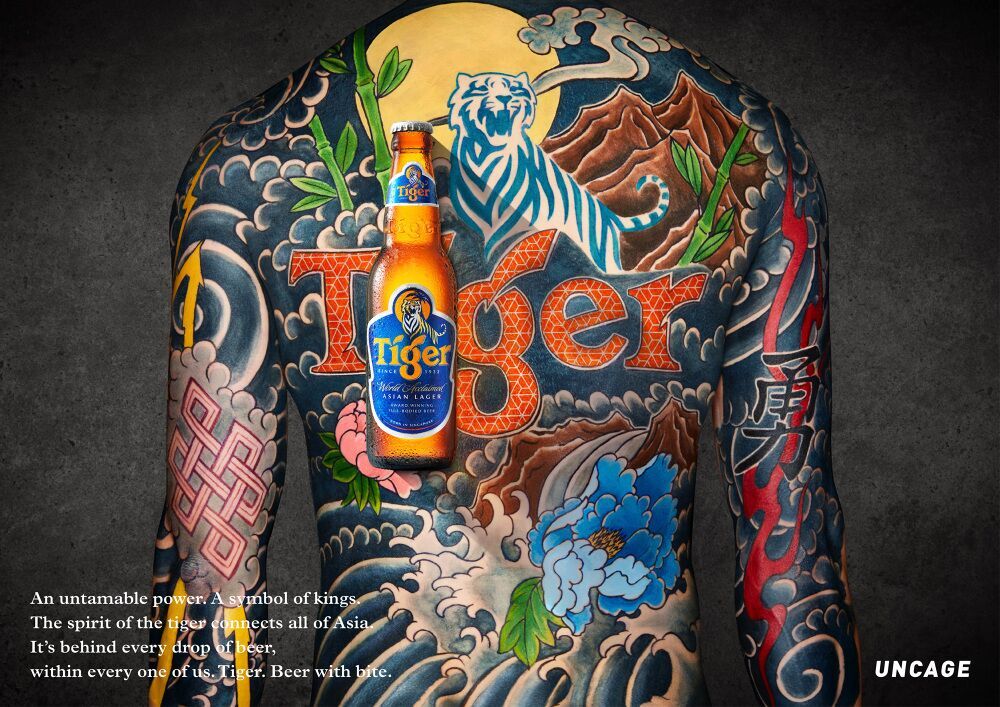 Consultant, Design & Special FX Tattoo
Experience: Tattooing since 1993 - Special FX for 10 years
If you're looking for an authentic tattoo artist to apply convincing and realistic temporary or special effects tattoos for commercial film shoots/photo sessions or a professional tattoo consultant  for such projects the look no further. Kian 'Horisumi' Forreal has years of experience working with temporary tattoo application for all kinds of media be it a small tattoo for a TV commercial, a sleeve for a music clip or a full japanese backpiece for a restaurant decor photo-shoot. Kian brings over two and a half decades of real world tattoo experience to the table and not only paints on realistic tattoos that can convince anyone of their legitimacy but he can also provide consultation on the process, composition and artwork to make it as real to life as possible for any situation. Kian has done work for Sake Restaurants in both Sydney and Melbourne, HCF Insurance TV ads and Tiger Beer global campaign just to name a few.
---
Kian 'Horisumi' Forreal has also designed and created award winning packaging and label concepts with 'Archie Rose x Horisumi' being his crowning achievement in this field.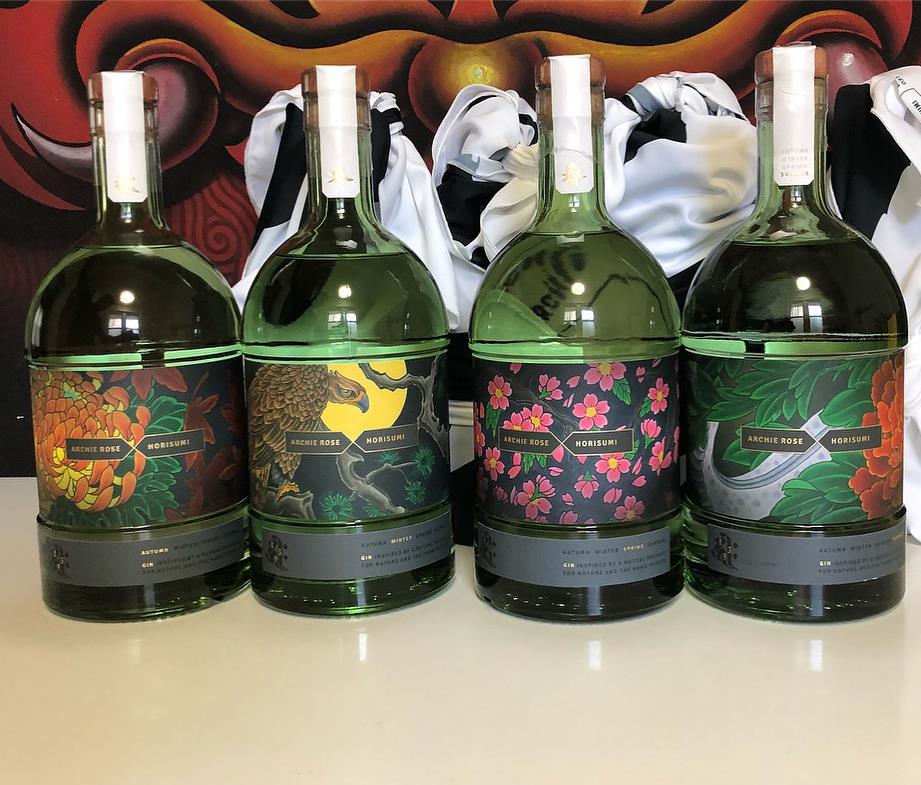 We are super proud of Squad Ink (@squadinkstudio) and Archie Rose (@archierosesyd) for their achievements with the Archie Rose X Horisumi Rare Gin series… not only have they won multiple awards for the spirit in global competitions, packaging awards here in Australia and abroad.. but they recently won the Gold Medal at the International Food & Beverage (FAB) Excellence Awards in London, beating out all the other global leaders in alcohol packaging, amazing!!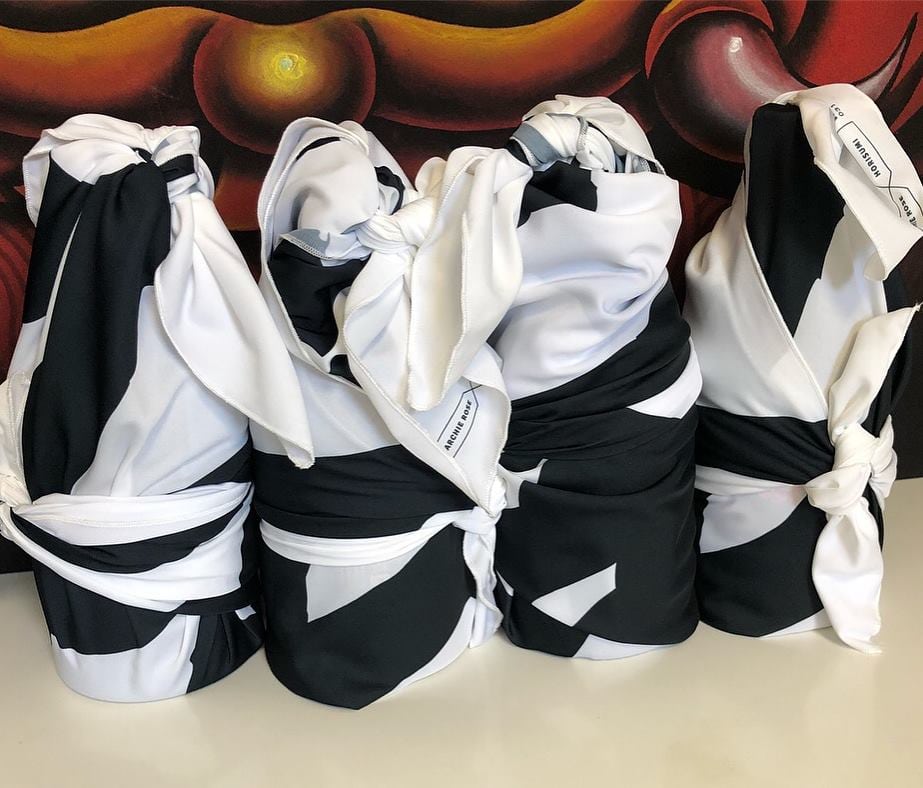 Here's a list of the other awards and recognitions that the Rare Gin series has accumulated:
Best Innovation – Archie Rose x Horisumi Series
honor date
2017
honor issuer
Australian Drinks Awards
.
Gold Medal – Packaging Design – Archie Rose x Horisumi – Autumn
honor date
2017
honor issuer
San Francisco World Spirits Competition (USA)
.
Silver Medal – Archie Rose x Horisumi – Autumn
honor date
2017
honor issuer
New York World Wine & Spirits Competition (USA)
.
Silver Medal – Archie Rose x Horisumi – Autumn
honor date
2017
honor issuer
Global Gin Masters (London)
.
Silver Medal – Archie Rose x Horisumi – Winter
honor date
2017
honor issuer
New York World Wine & Spirits Competition (USA)
.
2017 Sydney Design Awards, Packaging Design – SILVER
.
2017 International Spirits Challenge, Packaging Design – BRONZE
Limited Print all the original raw artwork for the Horisumi Gin series.
---
All the imagery below is original artwork drawn and prepared by Horisumi Kian Forreal and applied on human models using his painting technique.
Tiger Beer
Tiger Beer is one of the most popular beers of South East Asia, and is expanding its market into Europe, the US and Asia Pacific. For their latest ad campaign, they reached out to Kian Horisumi Forreal to develop a concept based on oriental style tattoo art. His brief was to create something powerful that lives up to the same brand ethos of Tiger Beer, something with an oriental feel to it, but that does not hail to any one particular culture or country, and of course it had to contain the iconic Tiger Beer logo.
Kian came up with the concept below, for a full back piece and sleeves, of a majestic tiger climbing a mountain above a waterfall, with the moon rising in the background.
Bamboo is traditionally then flora used alongside the tiger, its natural habitat. And the peony is a strong, masculine flower, the King of Flowers, to go alongside the King of Beasts.
This concept and final artwork took months of sketching, presenting, back and forth with approvals and changes. But once it was approved, it was only one short week until the next stage was underway. A 14 hour day was ahead of them, to paint this full back piece and then do a photoshoot afterwards, for the next global campaign of Tiger Beer.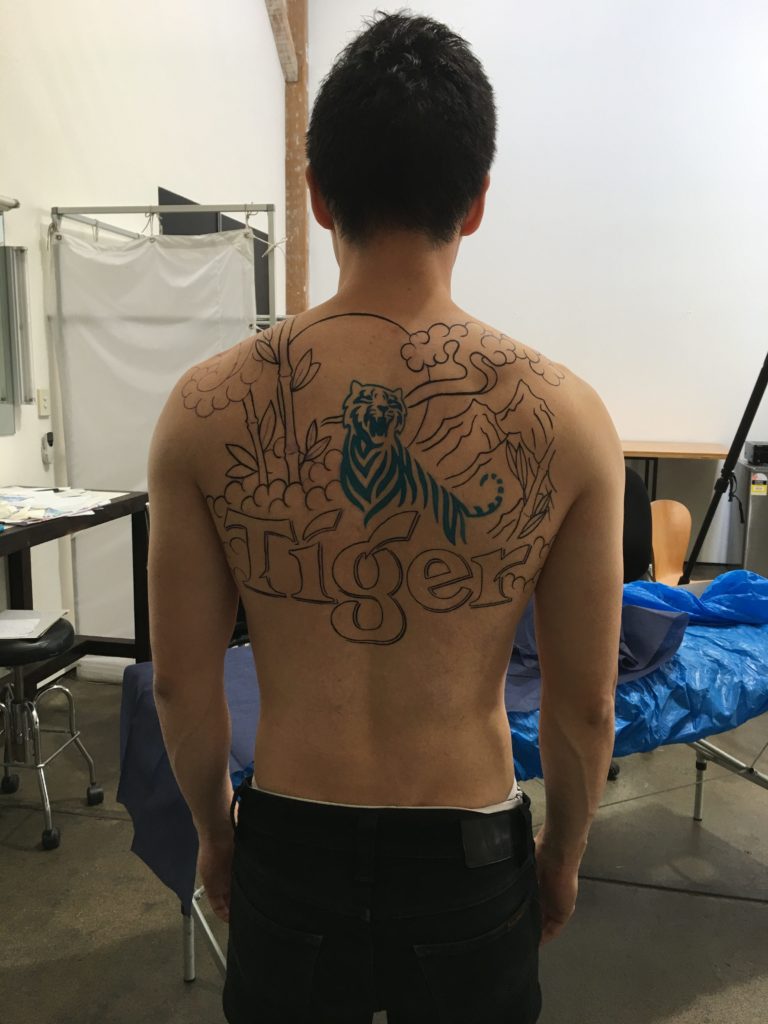 First step was to apply the stencil and then free-hand on the extra elements and the background (water, clouds and wind bars)
The painting process took two artists 12 hour to complete. It was a marathon effort by both Kian and Lance, not to mention a patient model!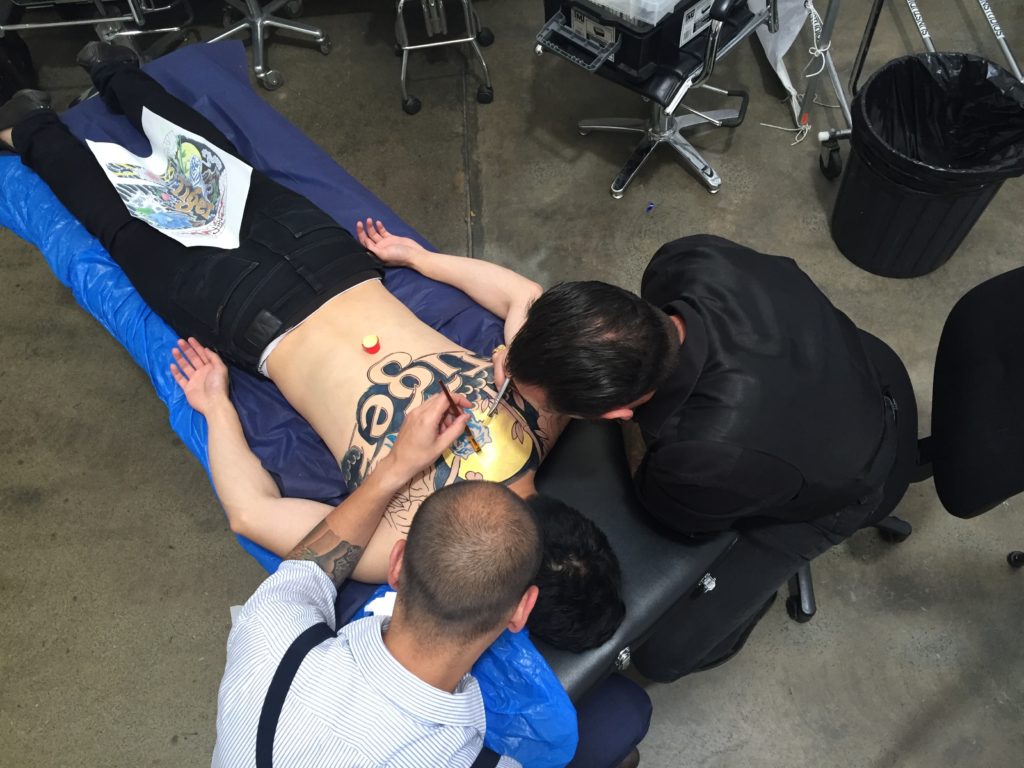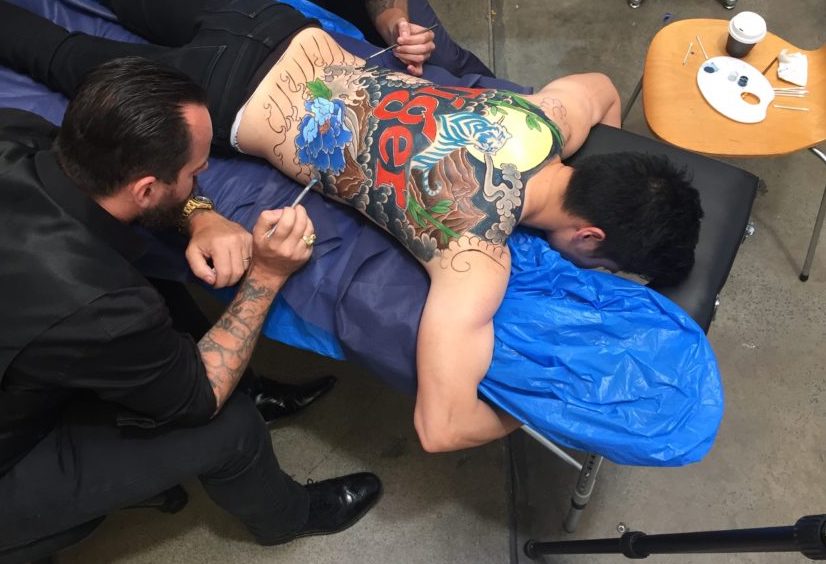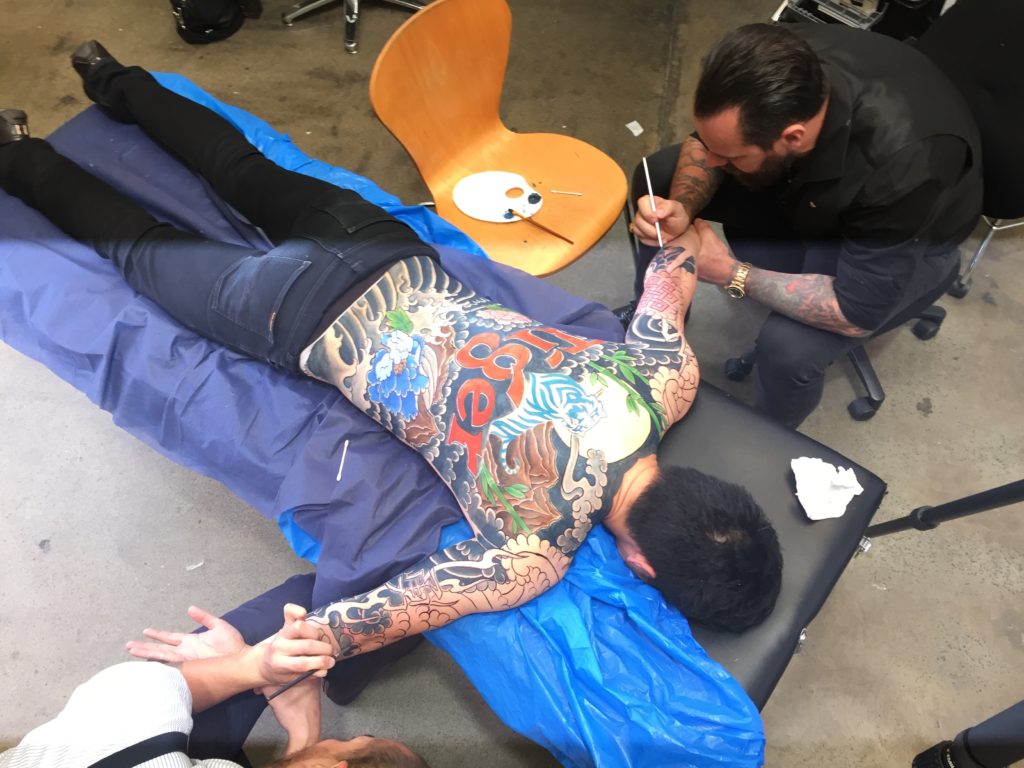 It was a huge undertaking by everyone involved, but it was not over. Once the artwork had been completed, the model went on to do a 2 hour photo shoot!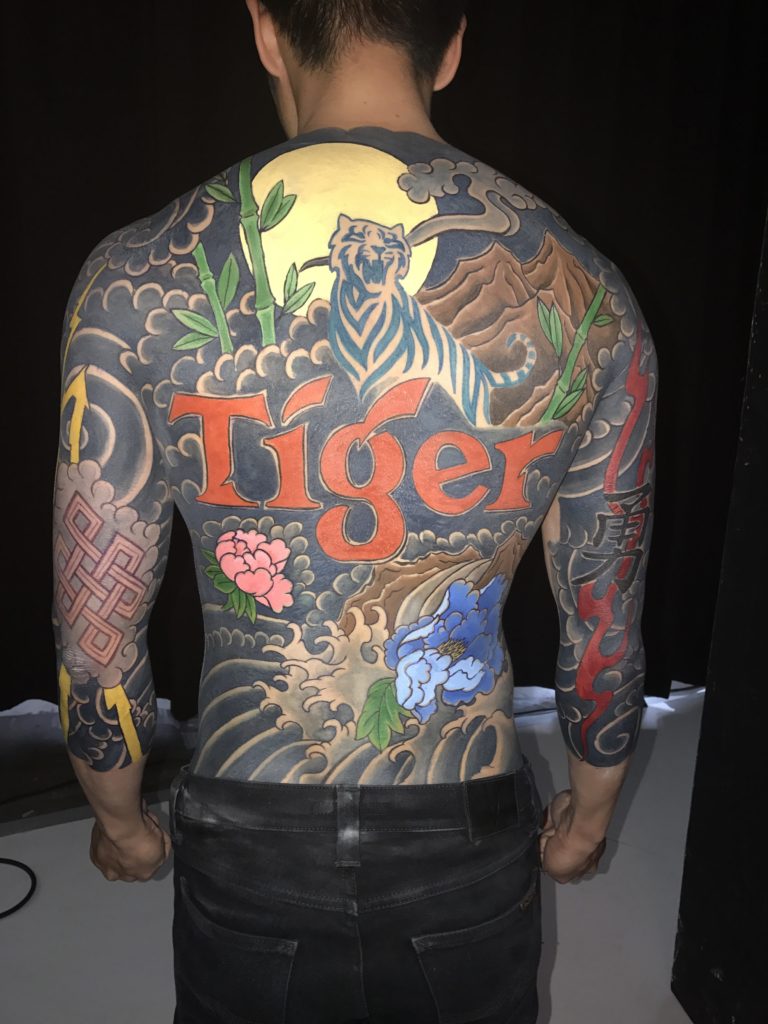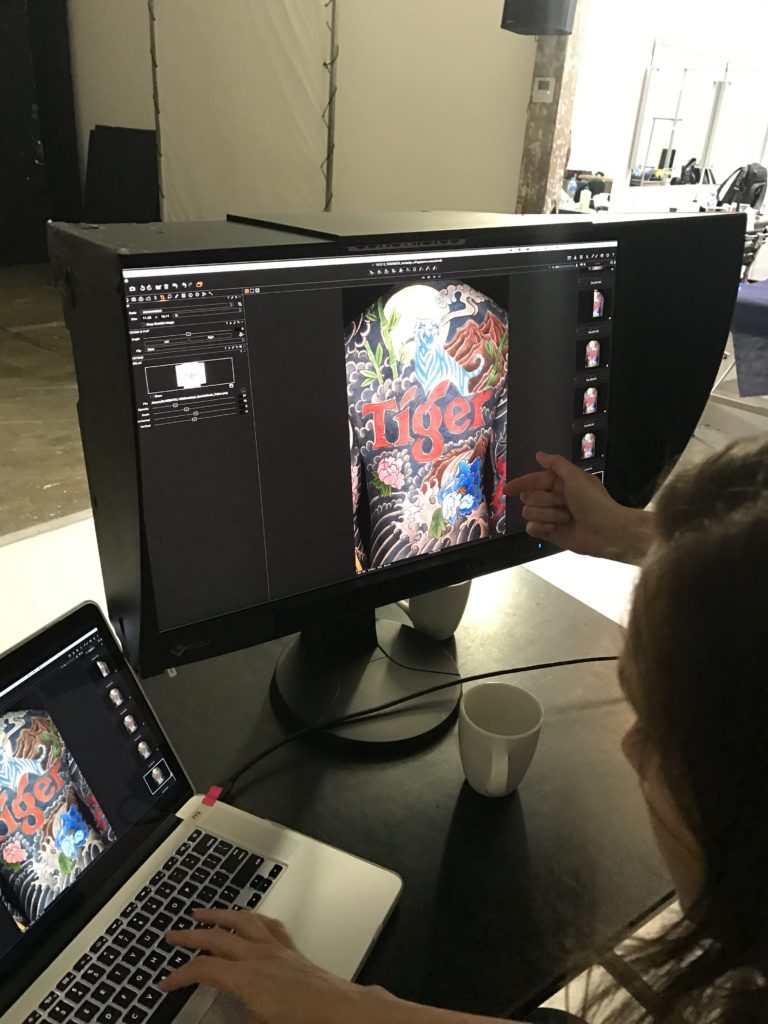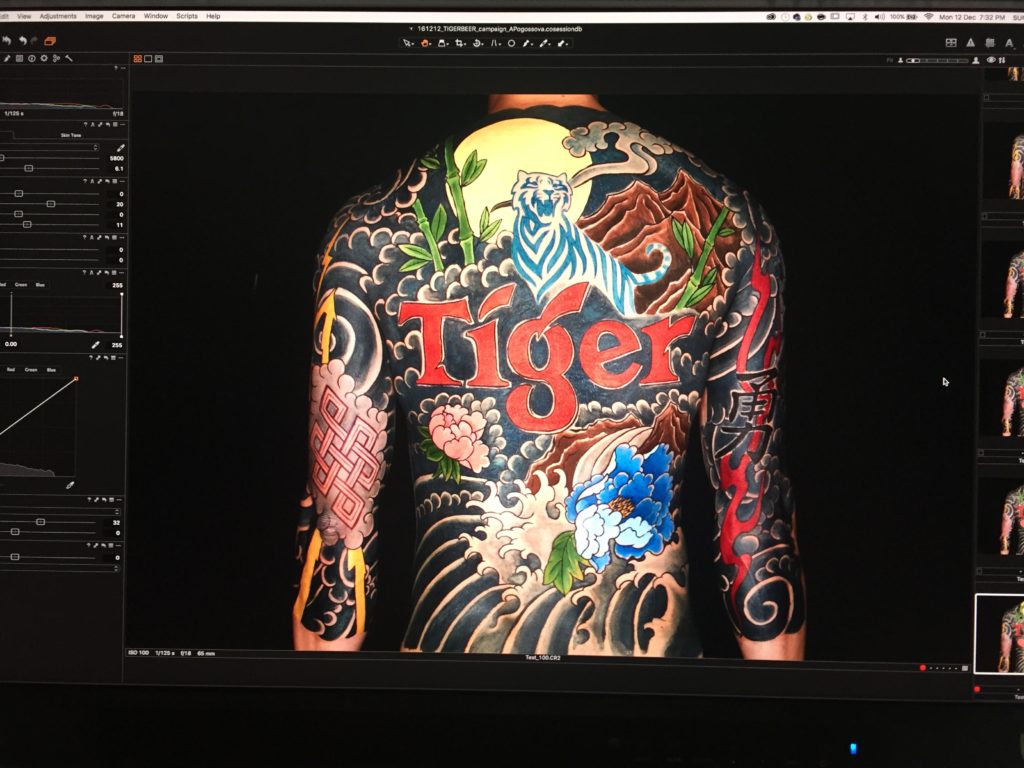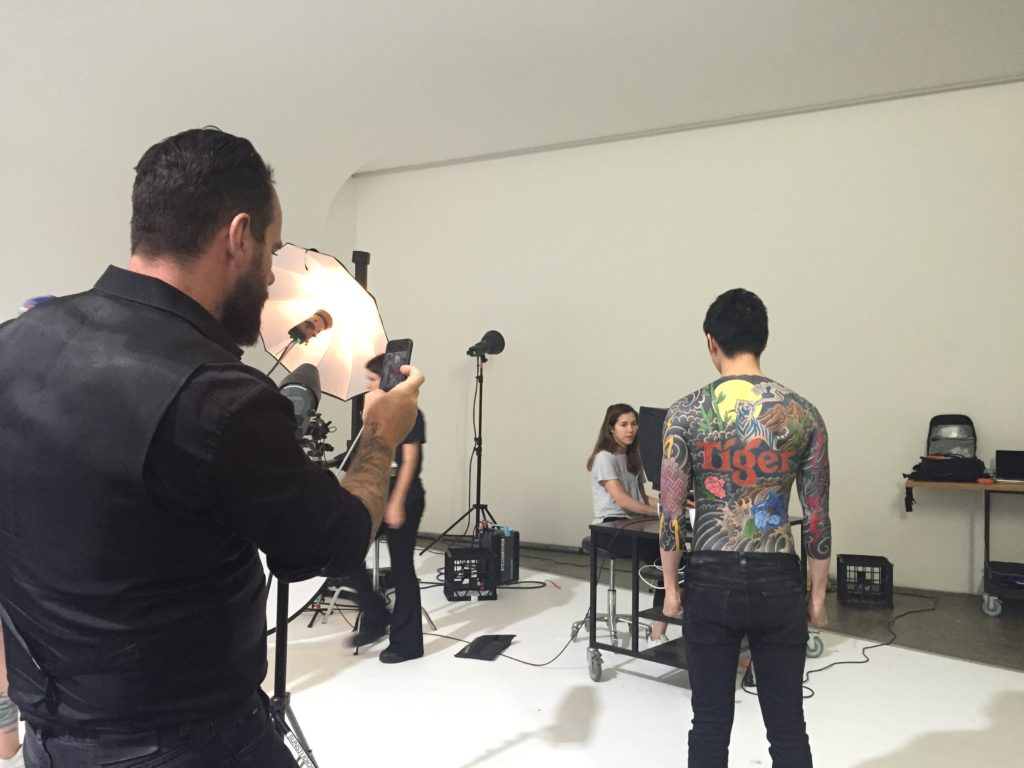 The final result on a bus shelter in Perth!!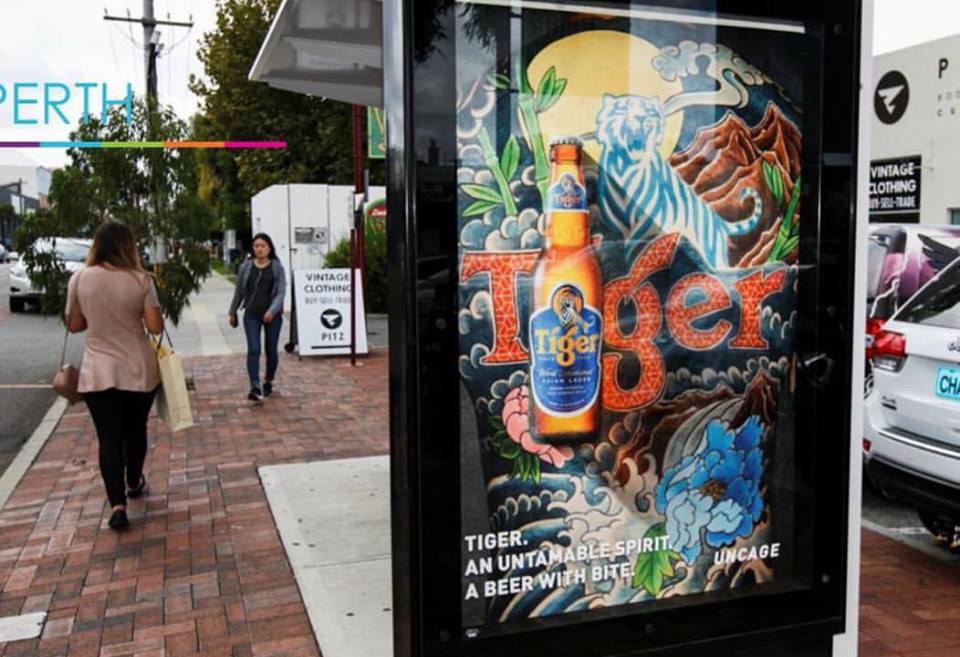 Sake Restaurant Sydney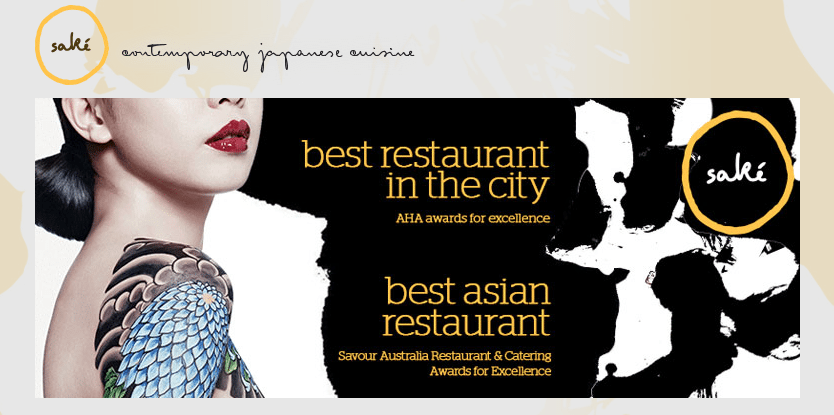 In 2013 Kian Forreal undertook a unique side project to his normal tattooing and business owner duties. An interior design firm approached Kian for his expertise and assistance in creating a new and authentic design to update and invigorate their award winning restaurant in The Rocks. Sake Restaurant has multiple locations around Australia, who will also eventually receive the "Kian Forreal interior upgrade", however the Sydney flagship restaurant in The Rocks was the first, and has been awarded a Chef's Hat, and has also been named the Best Asian Restaurant by the prestigious RCA Awards.
The new design would embrace the culture of large scale traditional Japanese tattooing. In order to ensure a unique design, Kian Forreal undertook the project to do body painting on two models for a special photoshoot for the interior design.
Kian drew up two designs, one for a peony 1/2 sleeve, with chest piece and another for a full back traditional dragon.
Once the stencil was applied, each petal, leaf and scale was painstakingly painted in, layer upon layer to create a traditional tattoo look and feel.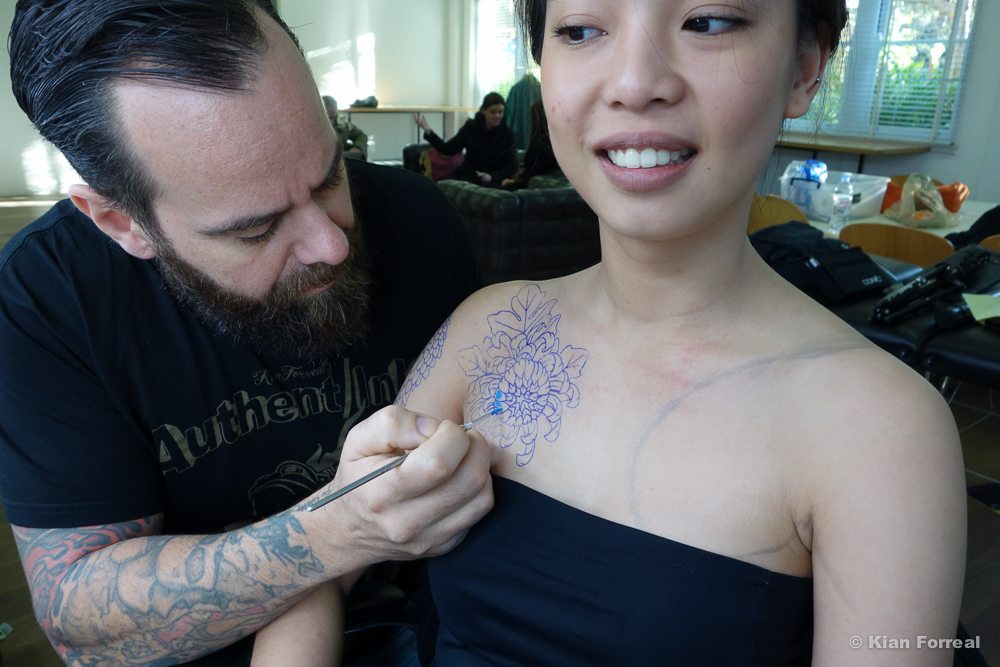 The result was amazing! After hours of the model sitting perfectly still and upright, she was off to hair and make up and ready to get in front of the camera!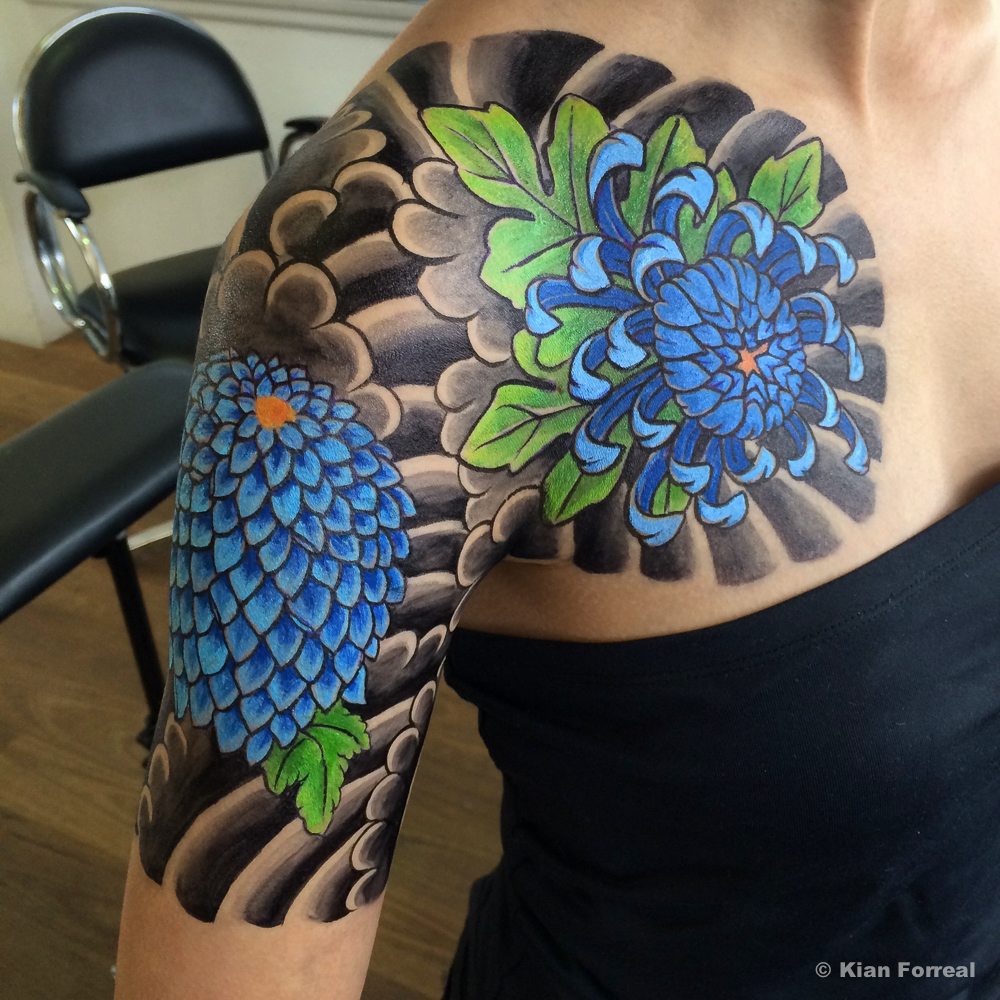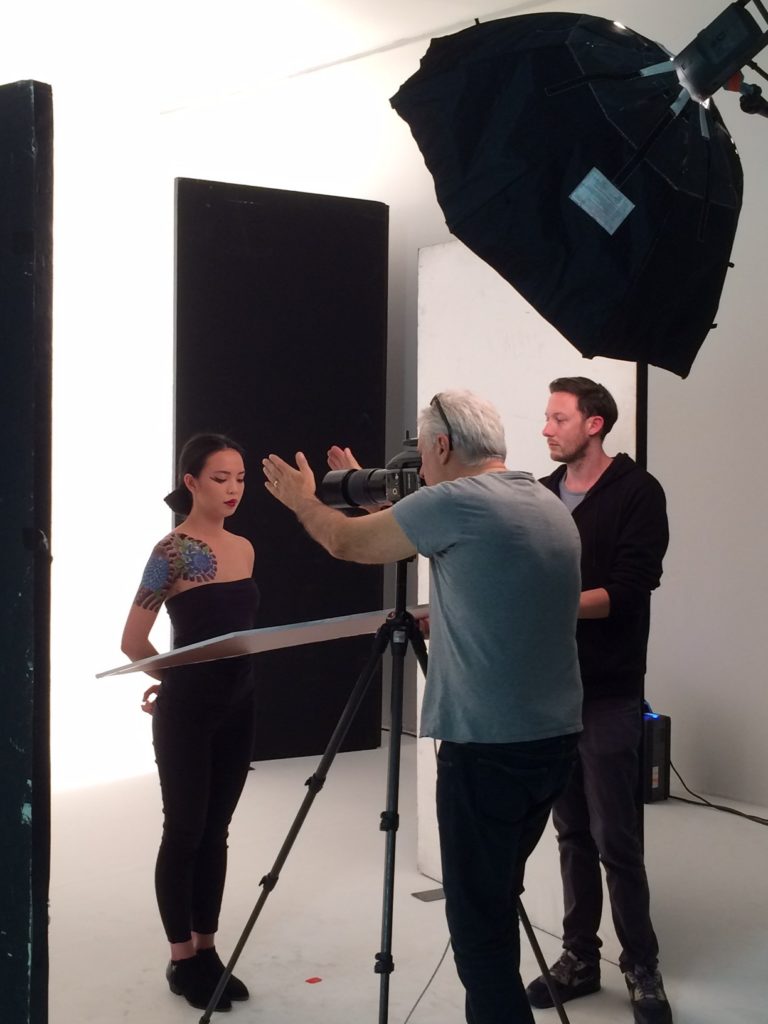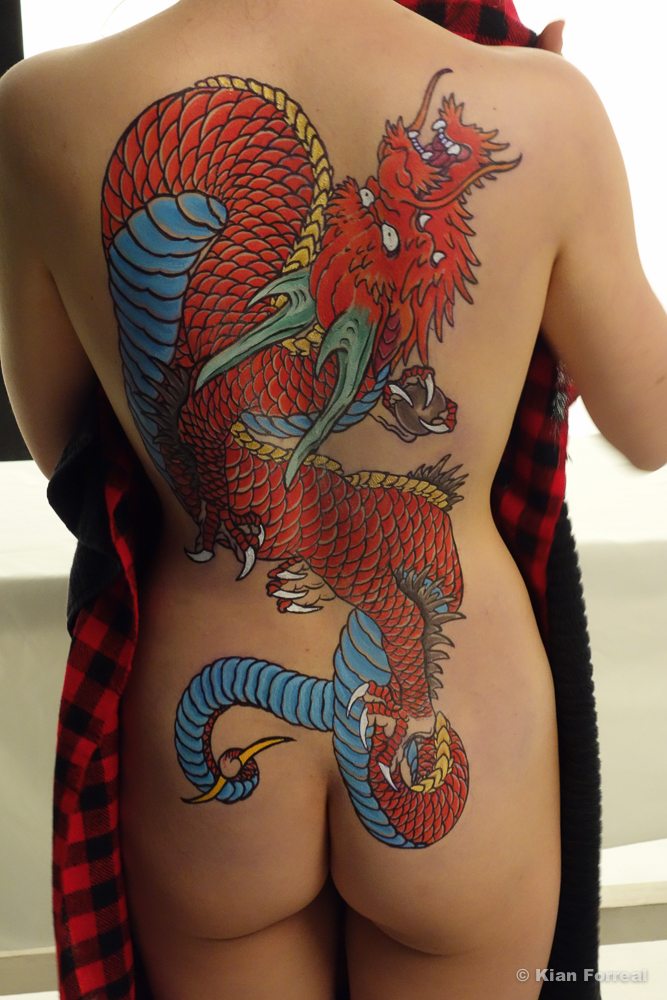 The finished product, online and in real life at the restaurant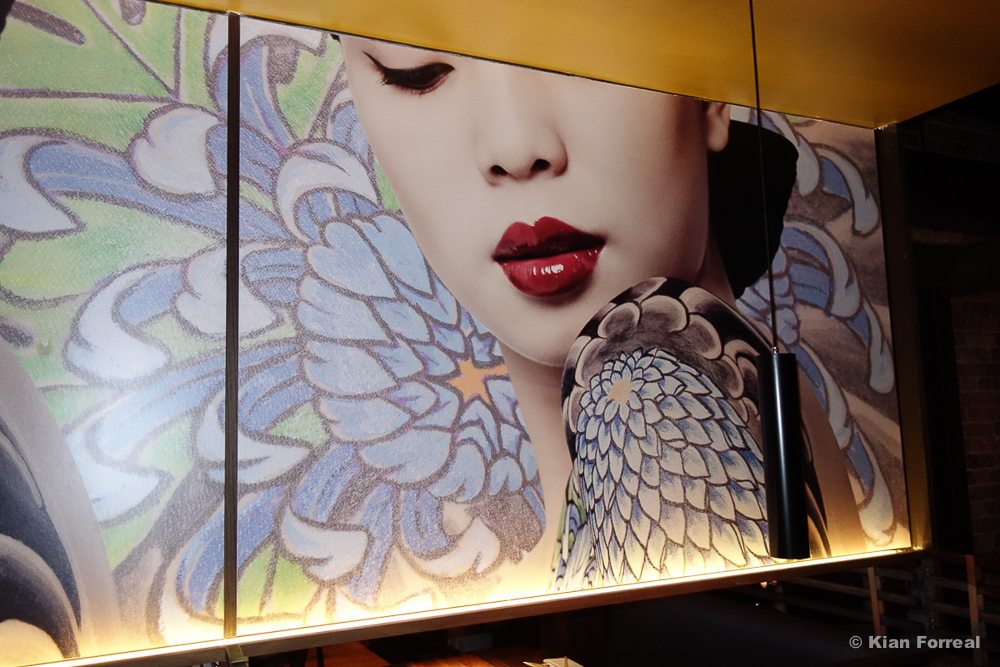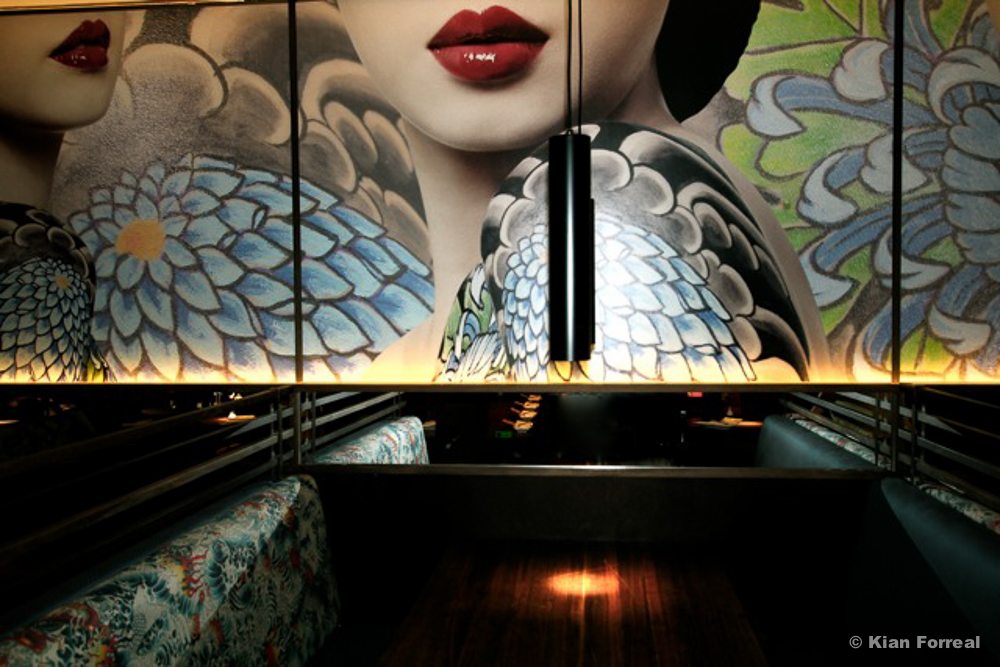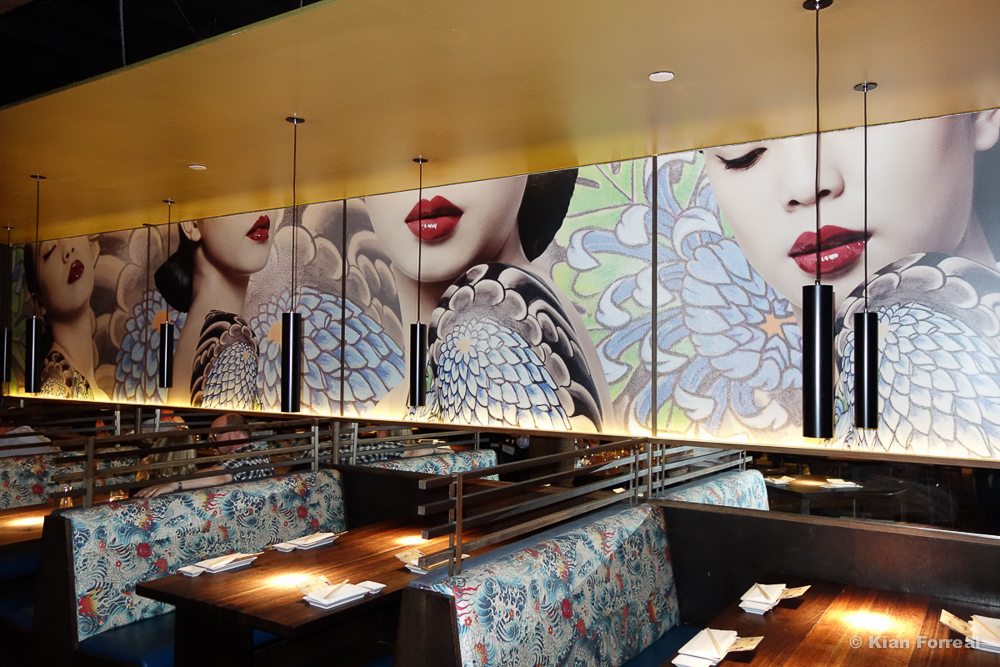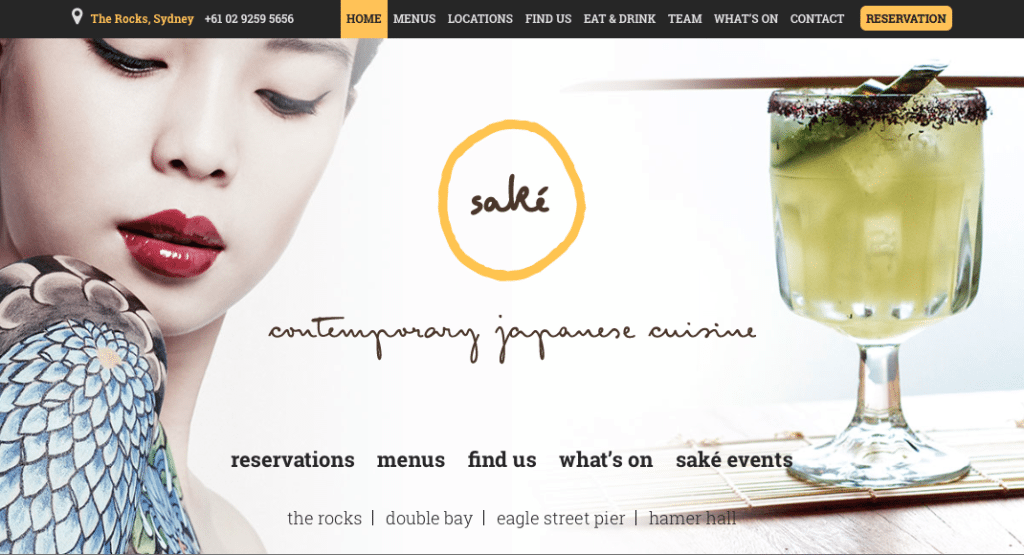 A huge thanks to the models for their patience, and for not moving an inch the whole day while being painted!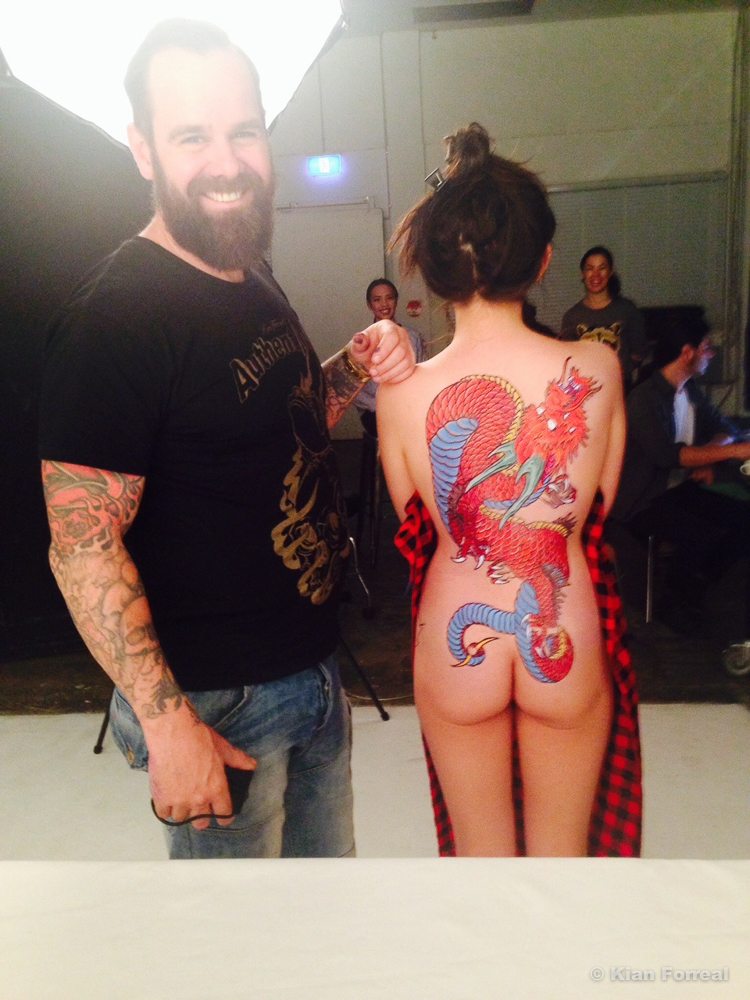 Sake Restaurant Melbourne

After the success of the Sydney Sake restaurant interior design project with Kian Forreal, he has been asked to extend the designs into the newly renovated Melbourne Sake restaurant on the renowned Flinders Lane.
As with the last project, Kian was brought in to do traditional japanese tattoo style body painting on the models. This time, the motif was a koi sleeve with his senjafuda, and a snake back piece. See below the progress shots of the day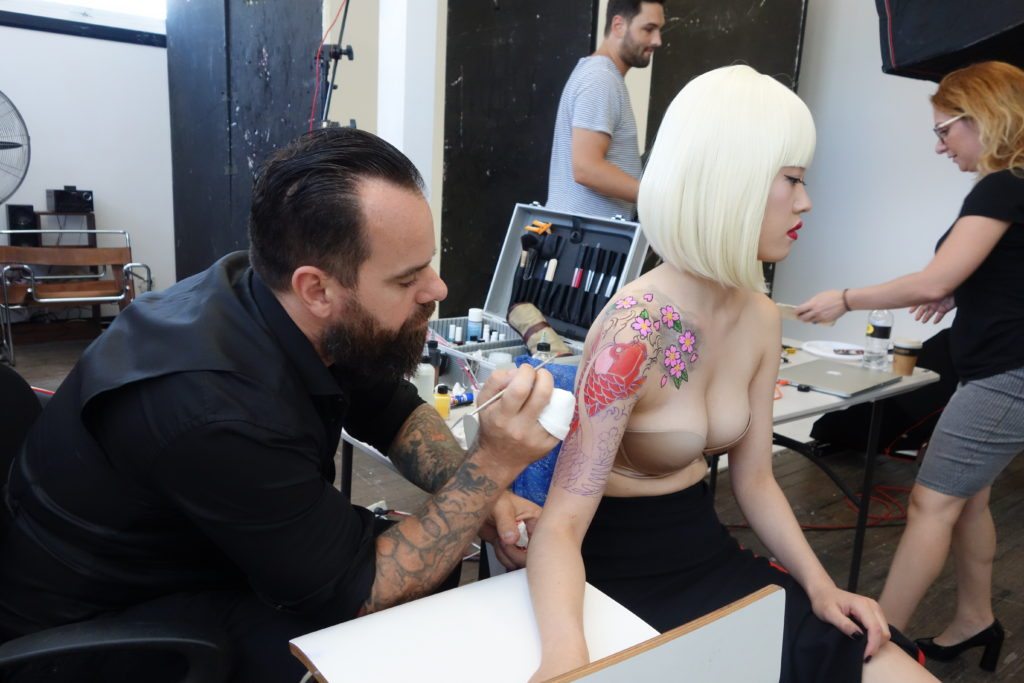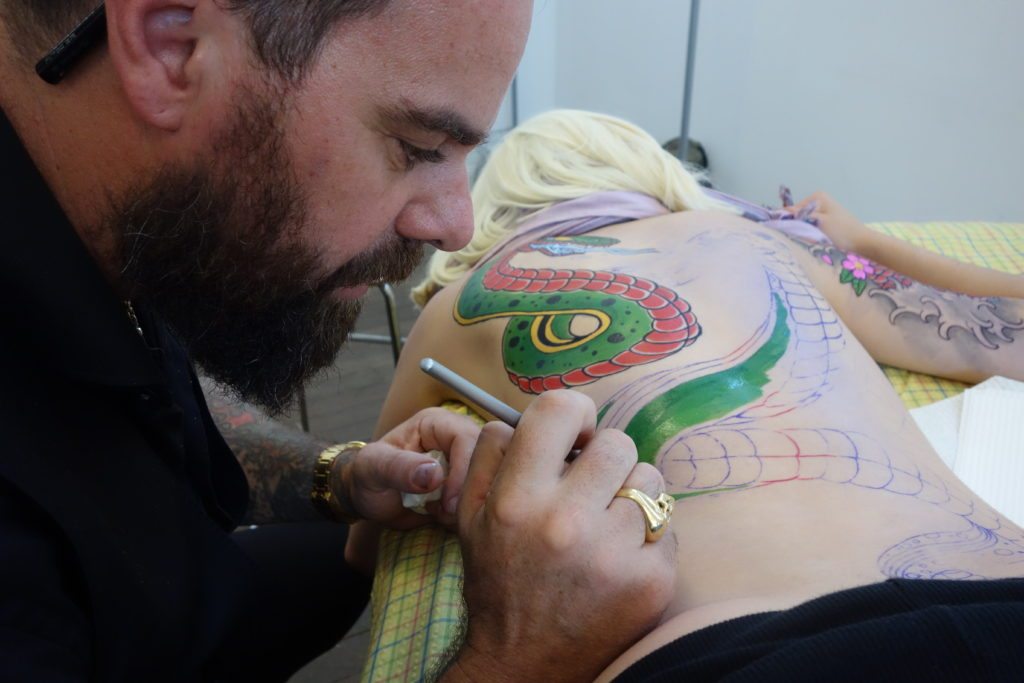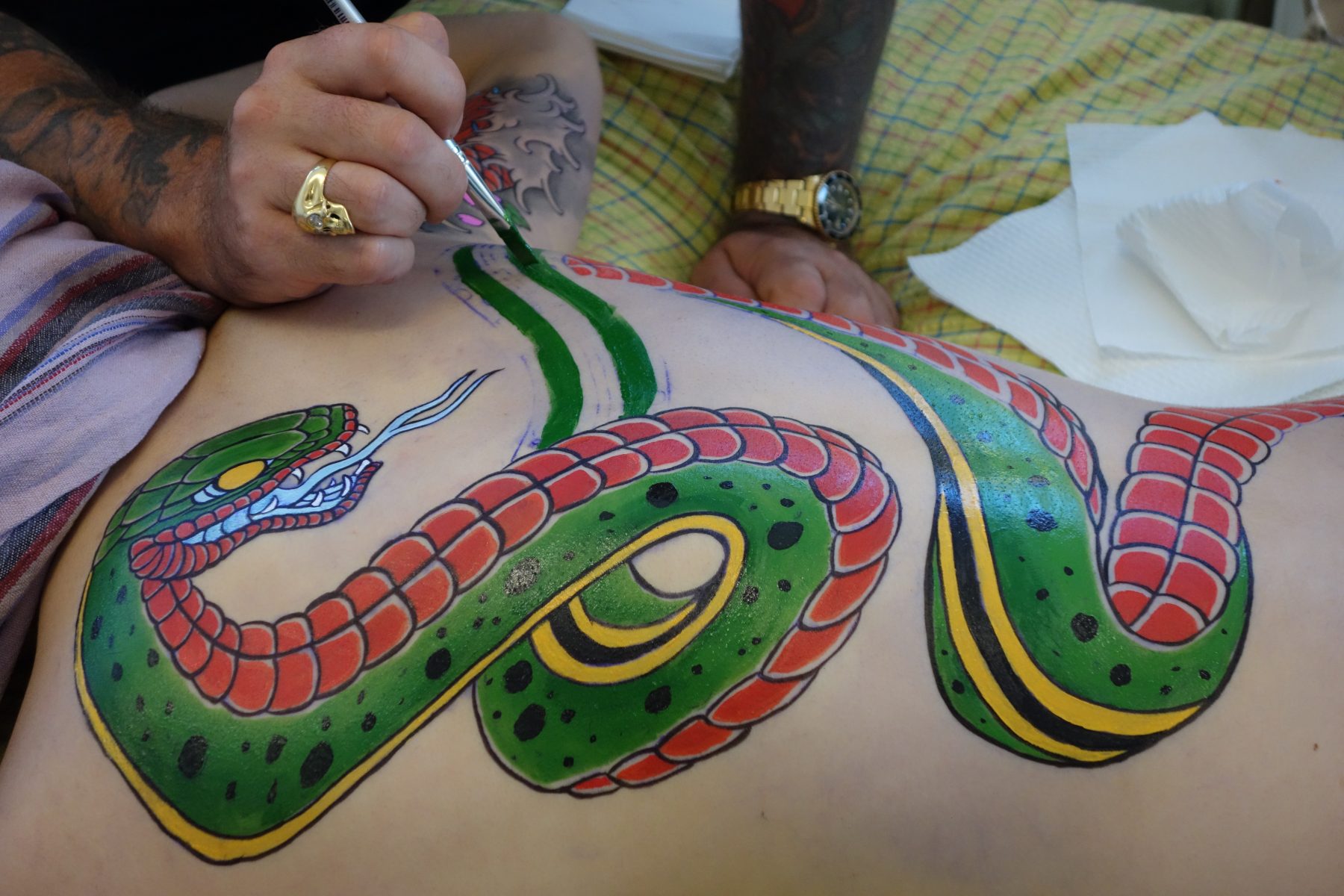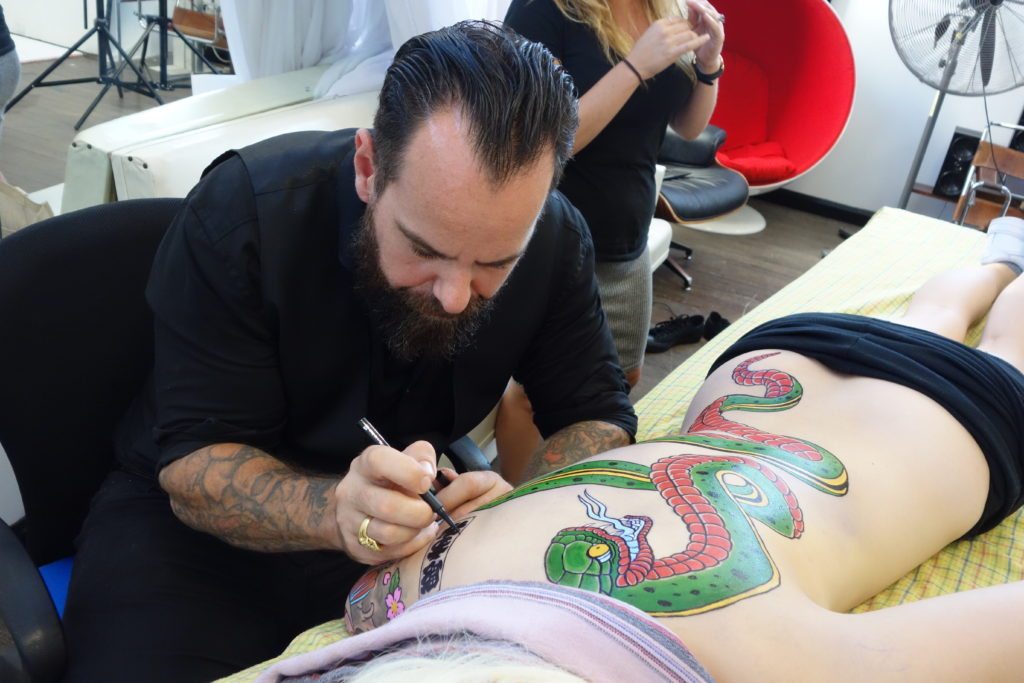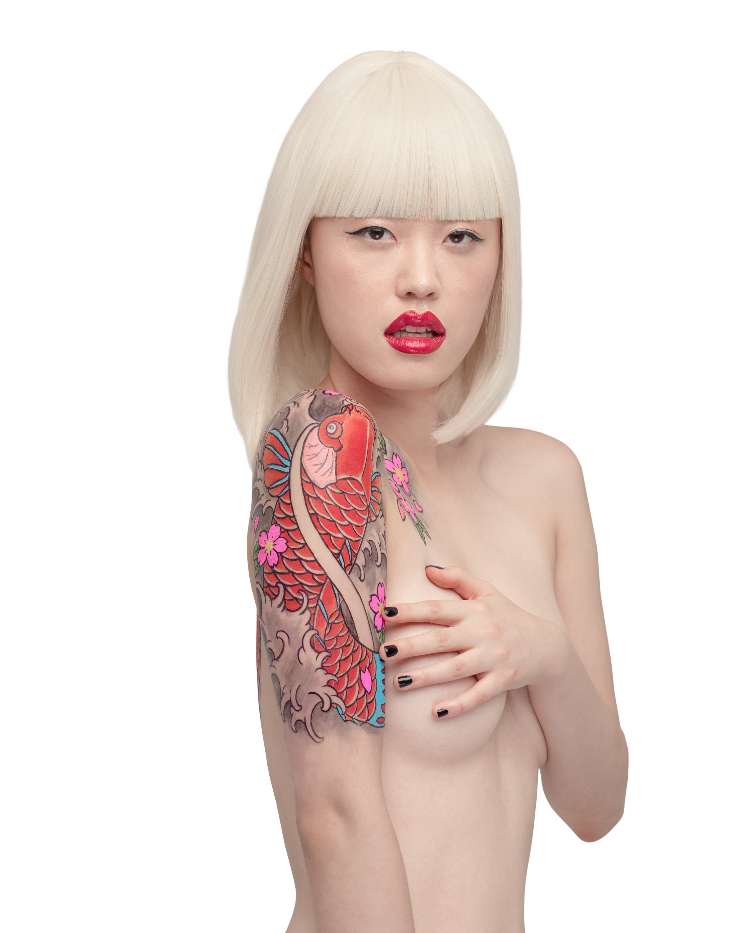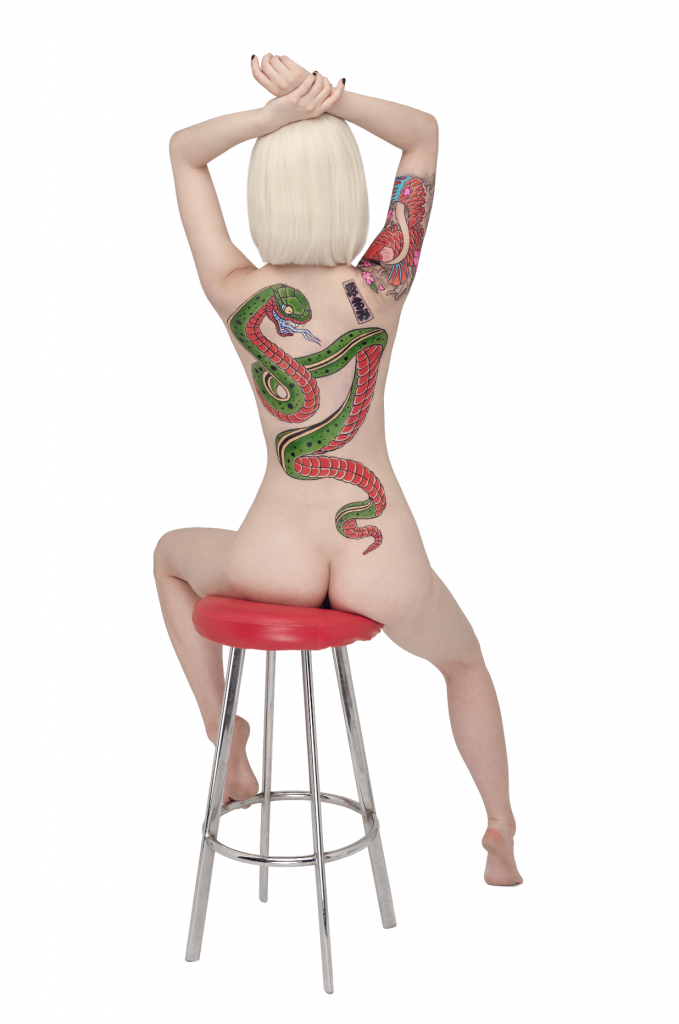 \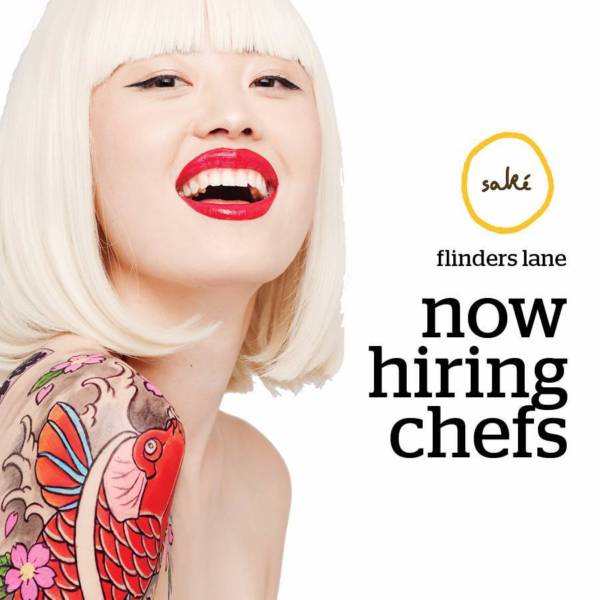 Sake Restaurant Manly
The most recent addition to the Sake Restaurant family is in Manly, I recently painted the latest Sake Girl for them and we got pretty outstanding results!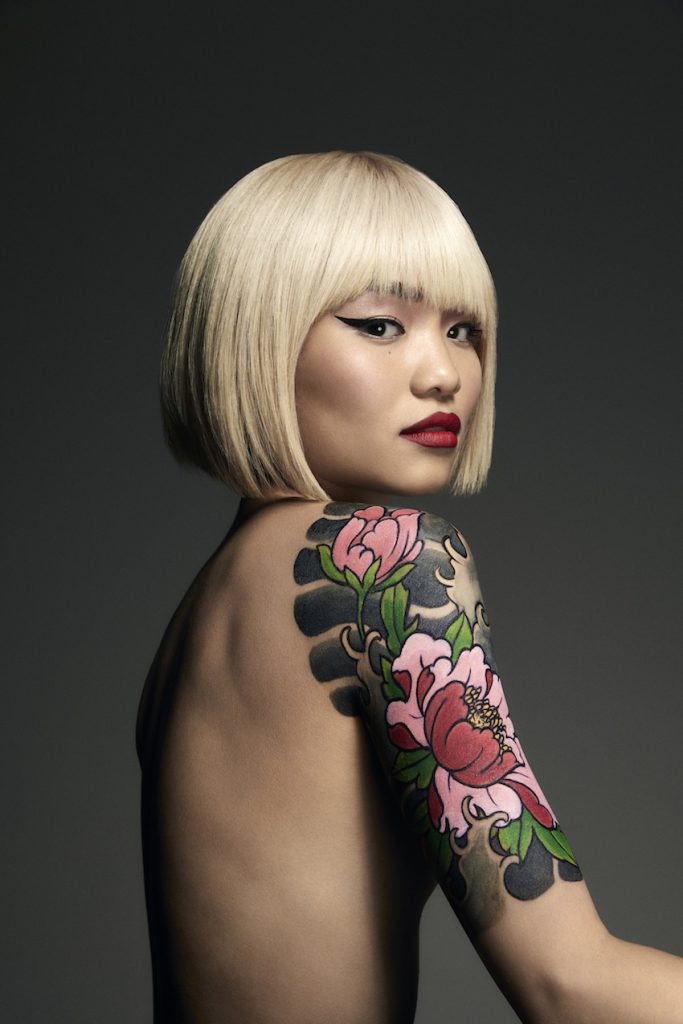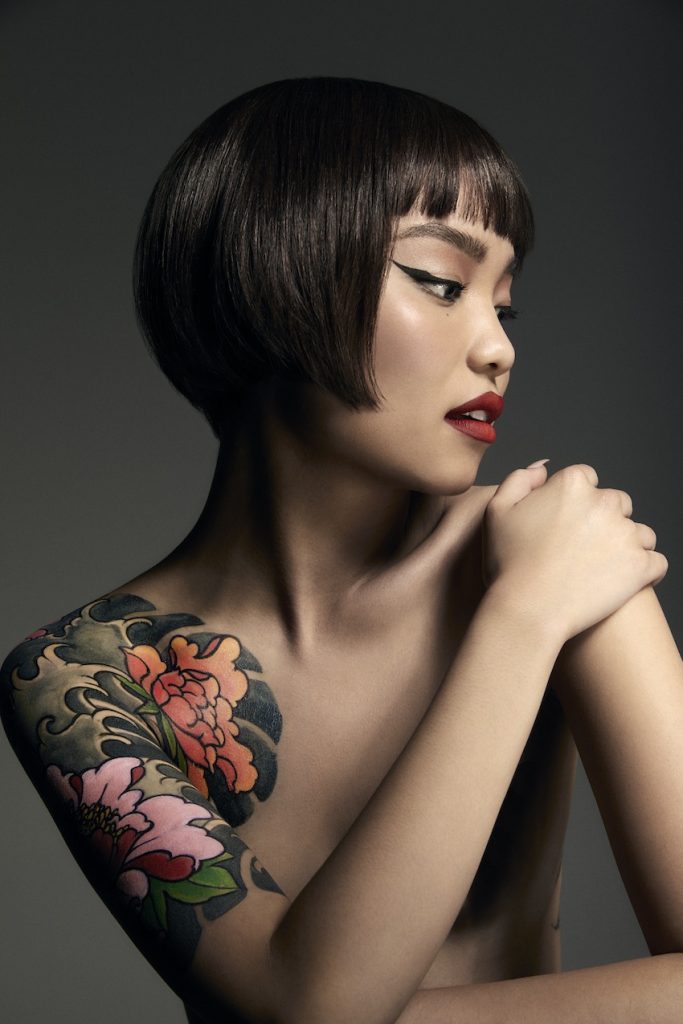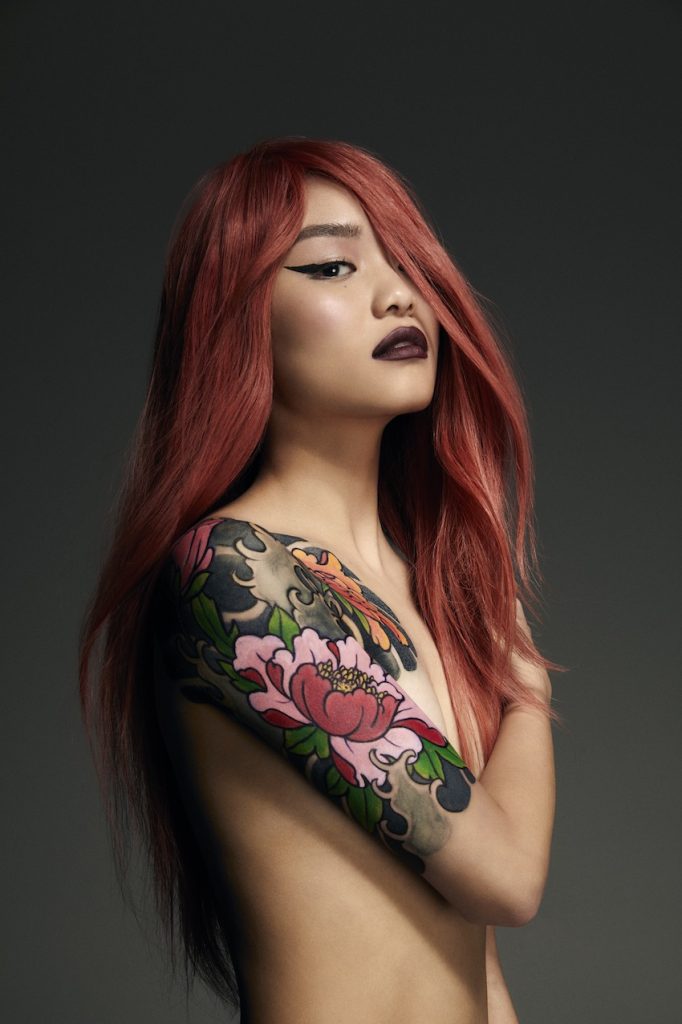 Thanks for looking!  use the contact form or call the shop for more detailed information.