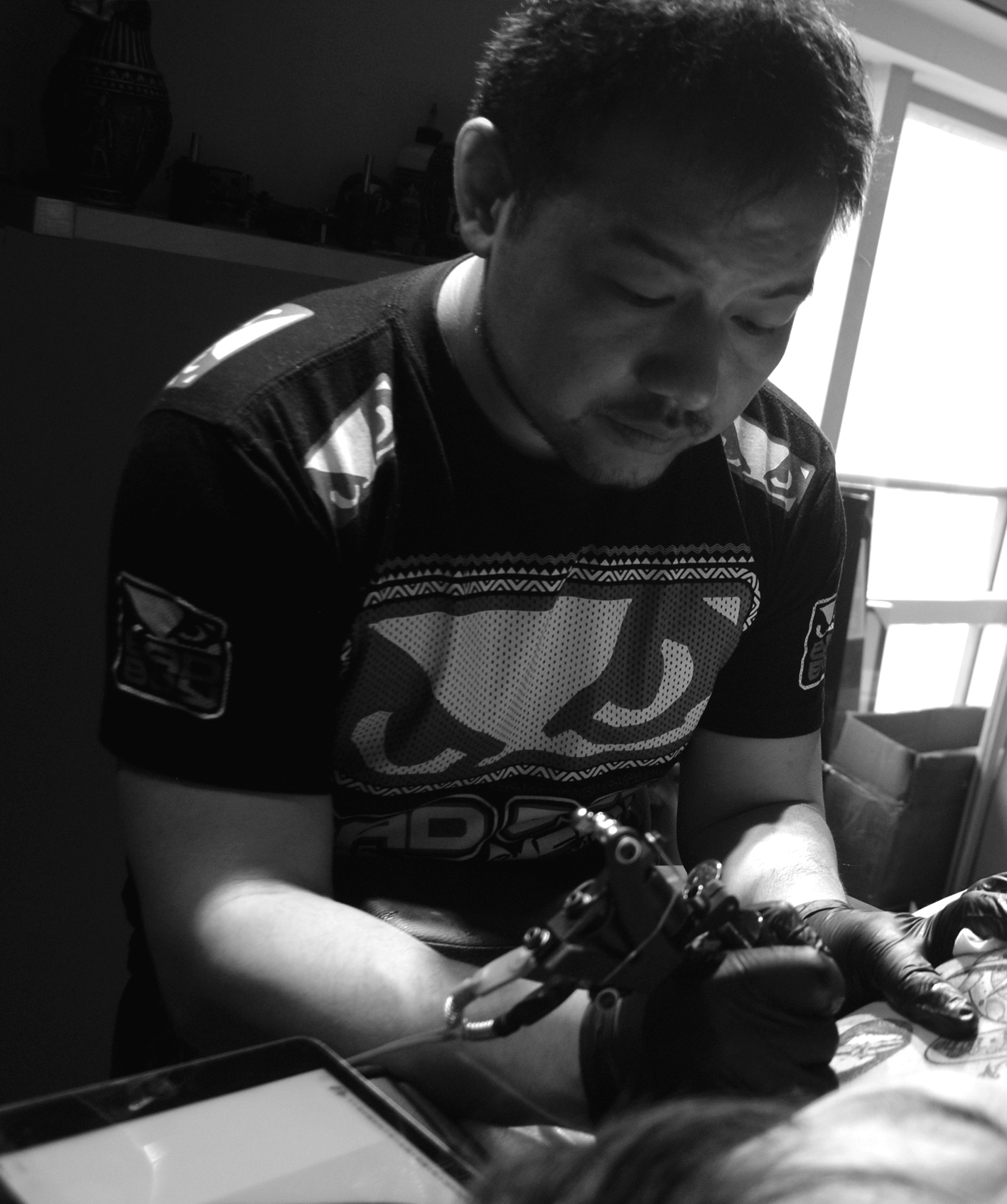 Full Time Artist
Max
Experience: 2009
Max was born in China and has been tattooing over 10 years , he studied architectural design, interior design and industrial design at University. After graduated with high marks, Max has engrossed himself in entertainment industry , and he participated in project of < Star Trek: Enterprise >, <Darksiders >, < Ufc2008 > and < League Of Legends > as a concept artist .
Max came to Australia in 2009 and studying graphic design at the Central Institute of technology in Perth, meanwhile he became an apprentice within Sacred Tattoos and learning from Master Stuart Rendell and Greg Dawson. After finishing the study of tattoo, Max chose tattoo as his lifelong career. In 2014, Max founded Ravenink Studio in Nanjing to develop his own tattoo career.
In order to constantly improve himself, Max came to Sydney and joined Authentink Studio in 2020. With years of experience in design, Max has thoroughly studied many different cultures and Arts to improve his tattoo design. Also as a Taoist, Max attention to detail and patience for perfection with inner peace. Max speak English, mandarin and Cantonese and loves black & grey realism, portraiture, traditional oriental and tribal/ geometric designs.
To book a free 30 minute consultation with Max just fill out the contact form requesting him or ring us on 8399 1973!
Max(周崇墨)来自中国南京,是一位拥有十年纹身经验的纹身师。
大学时期Max先后学习了建筑设计,室内设计与工业设计。毕业后,MAX作为一名概念设计师投身于电影与游戏行业,先后参与了《星际迷航》,《黑暗血统》,《UFC2008》与《英雄联盟》的设计工作。
2009年,MAX来到了澳洲PERTH,在Central Institute of Technology学习平面设计,同时在Sacred Tattoos跟随Stuart Rendell和Greg Dawson学习纹身。结束纹身的学习之后, MAX选择了纹身作为自己的天职。
2014年Max在南京创立了Ravenink Studio, 致力于发展自己的纹身事业。为了不断的学习与提高,2020年Max来到了悉尼,加入了Authentink Studio,成为旗下的一名纹身师。
常年的设计工作使Max对不同的文化艺术有着深入的研究,纹身作品设计感强烈。作为一名道教信徒,Max内心平静,这使他的纹身手法细致入微。Max擅长人物肖像,黑灰写实,工笔白描与传统东方的纹身风格。